On this day in 1997, two nervous teenagers met at Cardiff bus station for their first date: The Full Monty at Queen Street Odeon. Twenty years later and a long way from home - confidence has been gained, hair has been lost, but they're still very much in love.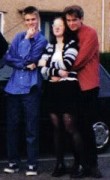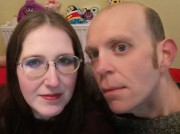 Louise: I was just 16 in Year 11 when my life changed forever. My friend - Other Louise - had been working with Gareth at Redlands News and never stopped talking about him at school. She insisted she didn't fancy him (nobody believed her) and I was intrigued, so I hatched a plan!
Gareth: I was nearly 18 with a mouthful of cola bottles when my life changed forever. The phone rang at work, so Other Louise answered. It was Louise. We weren't busy, so I stood there eavesdropping on girly talk. For reasons still unknown, I decided to start stapling my hair.
Louise: I had been willing Gareth to answer the phone, so when Other Louise shouted "Gar, what are you doing?!" and told me about his inappropriate stapler usage, I took my chance. Taking a deep breath and summoning all my courage, I asked her to put him on the phone.
Gareth: "Why were you stapling your hair?" was the first thing she said to me. I didn't really know, and her gorgeous Barry accent distracted me further. My hesitation amused her and she showed off that laugh for the first time. Then I finally managed to say "hello".
Louise: I wasn't anywhere near as confident as he thought. I don't really know how I managed to be so forward. But Gareth was soon in full flow. Funny, knowledgable about music, working towards Journalism school. I thought he was so cool and fancied him immediately!
Gareth: That voice. That laugh. The way she didn't mock my love of Status Quo. I fancied her immediately! We spoke for hours, as if we'd known each other for years. I got no work done that afternoon. As it got near to closing time, we swapped numbers and I promised to call later.
Louise: He made me promise that I would answer the phone when he called! We spoke every day for a week and I was falling for him more and more. I was so obsessed that my Mum gave me the money for the 20 mile bus journey from Rhoose to Penarth to meet him. But I didn't tell him!
Gareth: I had been to Heathrow to meet my parents from New Zealand, then stayed up all night watching the breaking news about Michael Hutchence. I was knackered and scruffy arriving at work, but I noticed a girl in the shop in the tightest brown trousers. "Nice arse" I thought.
Louise: "He's here!" whispered Other Louise. I already had butterflies but there was a whole swarm of them by now. I daren't look around, so I kept my back to the window and tried to keep breathing. Why did I think this was a good idea?!
Gareth: I was surprised that Brown Trousers was still in the shop once I arrived behind the counter. But it gave me a chance to admire the front view too. "This is Louise" said Other Louise. My legs turned to jelly. "Oh, hello!" I said, sounding like a Welsh Frankie Howerd.
Louise: He was gorgeous. I could totally understand why Other Louise absolutely, categorically DID NOT fancy him! He looked so cool in a grey jumper and jeans, a bit of stubble and those sideburns. And so tall too. I was so overcome that I couldn't speak. So I just stared.
Gareth: She was gorgeous. The thoughts in my head: "I wish I'd had a shave." "I wish I'd worn a shirt." Above all, "I wish I could speak." Then an overwhelming urge to down a one litre carton of orange juice led me to the fridge.
Louise: He walked past me to the fridge, the smell of his CK One making me melt. He helped himself to a huge orange juice, ripped the tab off and downed it in one. That was it. I'd have done anything for him at that point, and I still would. Our Diet Coke moment.
Gareth: "I needed that!" It was certainly an ice-breaker. "So, do you want to come behind the counter?" I asked with new-found confidence. She nodded, then after staring at each other's reflections in the window for a while, we spent the afternoon talking like old friends.
Louise: Time flew by so quickly, as it so often did from then on, and it was soon time for me to catch the bus back home. Gareth walked me to the bus stop. I so wanted him to kiss me, but he did the next best thing and asked me out on a date the following Saturday. I said yes.
Gareth: I so wanted to kiss her but my brain had stopped functioning. I knew I had nothing to lose by asking her out. We lived miles apart and went to different schools. But she said yes! I went home and told my friend, "I'm going on a date next week and I'm going to have SEX!"
Louise: The week before our first date dragged. My friends wound me up something rotten, speculating about all the things that were likely to happen. By the time Saturday came around, I was a nervous wreck. But eventually it was time for me to get on that X91 bus to Cardiff.
Gareth: All thoughts of sex had left my head by the Saturday. I could barely walk to the bus stop. The P2 bus got me into Cardiff fifteen minutes early and I headed to the A1 stand at Cardiff bus station. There was something in the air that day, and it wasn't the public toilets.
Louise: I saw Gareth standing there as the bus pulled into the stand. There were the butterflies again! He hugged me as soon as I got off the bus and we were holding hands by the time we crossed the road at Big Astey's. I don't think I let go for the rest of the day.
Gareth: We walked around some shops before the cinema, but I was in a nervous haze. Next thing I remember was following the Barney footprints through the cinema to the Full Monty screen. We sat in the back row and I eventually summoned the courage to put my arm around Louise.
Louise: I remember You Sexy Thing but next thing I knew, I was staring at a still image of five naked men. He put his arm around me! That's all that mattered, I couldn't remember the rest of the film.
Gareth: We walked arm in arm out of the cinema and I thought I'd show off by inviting her to Coopers, my favourite bar (even though we were both, ahem, underage). They had a Crystal Maze machine!
Louise: The reality of dating an older boy was hitting me. I felt so grown up! When he asked me what I wanted to drink, I said the first thing that came into my head. "I'll have a Hooch please."
Gareth: I was doubly nervous now. Firstly, I was with a girl. Secondly, I had to hope that the barman didn't embarrass me by asking for ID. He didn't. Like most people, he thought I was about 30. I ordered the Hooch, then for some reason ordered a Bud for myself. I hated Bud!
Louise: I was slightly alarmed about the look of disgust on Gareth's face as he sipped his drink, but he soon explained that he was simply getting a bit pissed. So was I. When he told me that he wanted to ask me something, I concentrated really hard and waited. Then waited more.
Gareth: It took me about twenty minutes to find the words, but I eventually blurted them out. "Will you be my girlfriend?" Louise gasped, then replied, "I need to think about it."
Louise: I didn't need to think about it. I could have kicked myself. It was the first thing that came out of mouth. WHY DID I SAY THAT?! After five minutes of Gareth staring at me, I finally said "YES!" and we hugged.
Gareth: It was soon time to put Louise back on the bus. We walked arm-in-arm back to the station and I held her close to keep her warm, trying to imagine what she was thinking.
Louise: Kiss me, kiss me, kiss me, kiss me.
Gareth: Did she want me to kiss her? Should I just go for it? Should I ask permission first? What was she thinking?!
Louise: Kiss me, kiss me, kiss me, kiss me.
Gareth: As Louise's bus came around the corner, the Bud kicked in and I suddenly found some confidence. I kissed her. She kissed me back. We kissed until she was the last person to get on the bus. The perfect end to the day. I saw no reason we shouldn't be together forever.
Louise: It was the perfect kiss at the perfect time. I wanted the moment to go on longer. Our chemistry was intense. Why could the bus not have turned up late for once?! I had no doubt that this was the boy for me, and there was no reason we shouldn't be together forever.