When I was fourteen, I got locked out of my house. It sounds like a stupid mistake, but it was quite understandable given the circumstances. You see, I was in shock.
That afternoon, I had spent a largely pleasant time in the company of M and his sister E. My mother was in the process of decorating the house and none of the upstairs doors had handles fitted. To get into each room you had to perform a manoeuvre that involved pressing down on the metal bar from the handle mechanism and twisting it to the right. Looking back, it might have been better if my mother had just removed the doors completely, but then that's hindsight for you.
At the time, I had two of the upstairs rooms to myself. The front room was my bedroom. It literally just had a bed and a wardrobe inside. The back room was like some sort of teenage bachelor pad. It had a television (of course), a music system, computer games and piles of magazines.
M and I had been happily playing
Subbuteo
in the back room while E looked on. We were in the middle of the
TV Stars World Cup
- a competition devised by the two of us that involved naming the little plastic players after television personalities. It added a new dimension to the game. We even had a draw after each round of the competition. We would take turns to choose pieces of paper out of M's shoe. This would lead to such unlikely match-ups as
The Bill
versus
Good Morning With Anne And Nick
. I seem to remember DI Burnside committing a violent professional foul on Anne Diamond that led to his sending-off. I also recollect Gloria Hunniford being flicked into one side of the goal post, resulting in one of her legs snapping off. You don't see that during
Soccer Six
. Unfortunately.
So M and I were engrossed in our tournament. We were commentating on the proceedings in the guise of our alter-egos Jimmy and Ralph (they just seemed like typical commentator names at the time) and having a generally enjoyable time.
But then E started kicking me, and giggled each time. Now, I'll admit it, I wasn't wise to the flirting techniques of teenage girls at the time. I saw it as a gross invasion of my privacy (after all, Elton Welsby never had to put up with behaviour like that on ITV's
Results Service
) and asked her to desist. This, inevitably, made her do it even more frequently.
After some time, I stood up and retired to my bedroom. Teenage girls sure know how to kick hard, and I was coming out in bruises. Next thing I knew, E had followed me in and the door slammed behind her. I heard an evil cackle of laughter from outside the door as M removed the metal bar from the door. I was trapped.
I'll level with you all, I was a bit scared. E began telling me that she had fancied me for ages and wanted to ask me out. Typical me, I presumed she was taking the piss. I was still in my slightly chubby phase and was rather confused as to why anybody would find me attractive. It didn't help that M had started playing the third disc from Status Quo's
From The Makers Of…
box set at full volume in the other room. That's enough to make anybody have trouble thinking.
And then it happened. As M bellowed along to the lyrics of
Roll Over Lay Down
(probably while strumming along on a tennis racquet), I found myself being pushed against the chimney breast by E who then proceeded to snog my face off.
Now I'm not one to brag, but E was regarded as one of the hottest girls in our year. I didn't actually agree with this critique (I much preferred VP or JD) but I suddenly felt a sense of pride that the unlikeliest boy in the entire school was kissing the girl that everybody else wanted. However, it then hit me; "nobody's going to believe me" (and indeed, nobody did believe me until E verified my claim at my infamous house party of 1997 - some three years later - but more on that at a later date).
I pushed E away from me and we both stood there, staring at each other. The silence was interrupted by M "unlocking" the door and bursting into the room for an impromptu air guitar performance of the solo from
Don't Drive My Car
. E shouted at him and chased him downstairs. I followed close behind. Our chase spilled out on to the driveway. Without thinking, I slammed the front door behind me. I didn't have my keys on me and my mother had gone shopping at B&Q then on to a restaurant (well, it makes a change from dinner and a show I suppose). As the opening bars of
Over The Edge
boomed from upstairs, I knew I had made a grave mistake.
It was then that the three of us burst into uncontrollable laughter. All stress and confusion was forgotten and M said that I could go to his house up the road until my mother returned home.
When we arrived at Chez M, E made her excuses and retired to her room. We never spoke about the matter again, even though we later had Welsh lessons together (literally, there were only three of us in the class) on a daily basis for two years. M, however, was in the mood for more sporting action. This meant only one thing:
A Question Of Sport - The Board Game
.
I loved
A Question Of Sport
. I may not have been able to answer a lot of the questions, but I loved the atmosphere generated by the panel game. I enjoyed the locker-room mentality of the contestants and the stern manner in which David Coleman held the show together. He was like a strict headmaster with Ian Botham and Bill Beaumont as his naughty pupils.
As was always the case when playing the board game version of a television show, M and I could never just be ourselves. On this occasion, I drew the short straw and had to be addressed as Bill for the duration of the game, whilst M would only answer to "Beefy".
Unfortunately, it took so long to get the plastic picture board set up properly, that no sooner had we started (with M correctly identifying Tessa Sanderson for two points, and me losing out by not being able to see that it was Ricardo Patrese bending over a barbed wire fence), M's telephone rang. It was my mother. She had returned home and was wondering why the first line of
Don't Waste My Time
was repeatedly skipping, yet nobody seemed to be home. We had to leave it there, but promised that we would resume our sporting battle another time. But do you know something? We never did get around to it. I'm sure I could have made an excellent comeback too.
Some months later, I was in the newsagents on Cornerswell Road in Penarth (it is now a beauty salon). I had some pocket money left over and was perusing their superb selection of ZX Spectrum titles. By that time, apart from John Menzies in Cardiff, Cornerswell Road was the only place that I could still buy games for my beloved machine. Imagine the joy on my face as I flicked through the titles:
Gauntlet
? Got it.
The Munsters
? Got it.
Quattro Adventure
? Got it.
A Question Of Sport
? Glory be! I do not have that!
Suffice to say, I handed over my £3 and ran home as fast as my legs would carry me. I was so excited that I almost forgot about my penny change. Almost.
As usual, it took ten minutes to load the game from the cassette tape but it was well worth the wait. I was presented with the loading screen and some musical accompaniment in the form of a digitised version of the theme tune. Then it was time to choose my character. Apart from some (actually quite good) computer generated versions of Coleman, Botham and Beaumont, all other characters were fictional. As I was very much a fan of Formula One, I always opted for an odd looking man with a mullet because that was his specialist subject. I believed that the questions would be in my favour and I would have no trouble winning. However, the digital Coleman would still stump me with over a dozen questions about English football in the sixties.
Of course, there is only so much information that can be stored on a cassette, so many questions would repeat themselves after numerous gaming sessions. I memorized each answer and was soon laughing manically as I whipped Bill Beaumont in to shape with my vastly superior knowledge.
There was one question in particular that repeatedly appeared. It was part of the "What Happened Next?" round (of course, in the television version the contestants are shown a video clip of a disastrous or amusing sporting event. The game gave a detailed description instead). It was as follows:
During a 1962 match between Tottenham Hotspur and Burnley, a dog ran on to the pitch. What happened next?
Three choices were then given:
A: The dog went on to score a winning goal.

B: Play was stopped until the dog was removed from the field.

C: The dog chased Jimmy Greaves who then shinnied up the goalpost.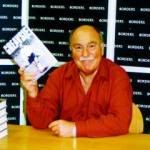 Of course, the correct answer was B, but I always refused to select it. I had a much better vision of a petrified Greavsie climbing up a goalpost. However, no matter how many times I opted for that variation of the answer, it never became true. Even today, I'll watch
A Question Of Sport
(now with Sue Barker as the strict headmistress and Ally McCoist and Matt Dawson as the naughty boys - that sounds like a porn film in the making) and hope that the Jimmy Greaves clip is shown, always clinging on to the slightest bit of hope that Elite Games got it wrong.
Ultimately however,
A Question Of Sport
is a reminder of my first steps into the world of sexual adventure. I don't suppose that there are many people who can say that…