When I was a teenager, Channel Four's early evening line-up was something to get excited about. These days it's
The Simpsons
and
Hollyoaks
every night, so I often find myself yearning for the days when Channel Four was the only place to catch shows such
Eerie Indiana, Crystal Maze, Gamesmaster, Remote Control
(Tony Wilson's long-forgotten student quiz show that also featured Frank "Oh Mummy, the man with the large head is scaring me" Sidebottom),
Happy Days
(it made my year when they showed the
Happy Days Reunion
one Christmas Eve in the early 90's),
The Cosby Show
and even
Blossom
.
However, my favourite show was about a West Indian family who arrived in Britain and immediately opened a barber shop in Peckham. As the theme tune stated, they
"came from the sun to leave in the city, I miss me rum, I want me coconut tree." Desmond's
was generally a class-based comedy. The main character was (unsurprisingly) Desmond. He was a family man and entrepreneur who held very traditional values. His wife was supportive and his children were intelligent - one worked in a bank, another was a university student - and overall, they were the picture of the perfect British family.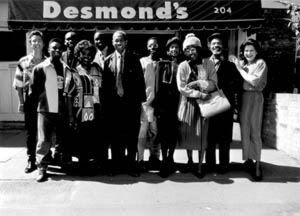 Desmond's
arrived on our screens in 1989. Its timing could not have been better. Of course, black people had appeared in sitcoms before but
Desmond's
was one of the first British sitcoms to represent the country's multi-cultural society in an accurate, non-patronising manner. Carmen Munroe (who played Shirley, Desmond's wife) said of the show:

"we have successfully created a space for ourselves, where we can just be a real, honest, loving family, with problems like lots of people, and we can present that with some degree of truth and still not lose the comedy."
Desmond's
illustrated that being from a different culture does not mean that life has to be completely different.
The barber shop was typical of any high street store. The comedy came from mishaps at the workplace, Desmond's reactions to what he saw as his children's wild behaviour and the way in which Shirley was really in charge of the family unit, even if Desmond didn't know it. The real star of the show for me however, was Pork Pie. He was a regular at the barber shop, an old man who would increasingly infuriate Desmond throughout the series. Almost every episode would involve a close-up of Desmond shouting out an exasperated "PORK-PIE!" only for the rest of the cast to collapse in a fit of giggles.
Norman Beaton (Desmond) unfortunately died in 1995, a short time after the final series of
Desmond's
had aired. He left a lasting legacy. The show is still aired in the Caribbean and has also been shown on BET (Black Entertainment Television) in the USA. A British repeat of the show is long overdue.