It must have been fun to be a game show creator in the nineties. It seemed that all you had to do was walk around the board game section of Toys R Us and take your inspiration from the back of the boxes.
During this time, we were treated to the television versions of
Cluedo
and
Trivial Pursuit
, amongst others. I was always disappointed that my personal favourite,
Game Of Life
never made it to the small screen. It was the ultimate end-of-term, bring-your-toys-to-school game. Of course, it was pure propaganda with its ultimate goal of "get married, get a job, have a baby" but I just enjoyed putting little pegs in the back of a plastic car and refused to comply with society's expectations. Seeing as that's how I live my real-life, I suppose the game could claim credit as being the foundation of my personality. My life, sponsored by Hasbro.
Anyway, my favourite board-to-screen adaptation was
Win, Lose Or Draw
, a variation on the rules of
Pictionary
.
As if thirty minutes of watching people draw dodgy matchstick men wasn't enough,
Win, Lose Or Draw
had the added bonus of celebrity participation. Ever wanted to see Michaela Strachan draw a horse? How about Bobby Davro's pictorial rendition of "never judge a book by its cover," or Barry McGuigan's insane attempt to storyboard the complete
Godfather
trilogy in under sixty seconds? Perhaps Tommy Boyd's (the
Wide Awake Club
version, not the Scottish footballer) surprising artistic ability is your turn-on?
Win, Lose or Draw
was definitely the show for you.
Originally presented by Danny Baker,
Win, Lose Or Draw
was the perfect way to spend a weekday morning. If you were off sick from school, it was the ultimate pick-me-up. If you were lucky enough to see it during the holidays, it made the sense of freedom even greater. In fact, I reckon Bruce Springsteen had probably just watched a summer marathon of
Win, Lose Or Draw
episodes just before he wrote
Glory Days
.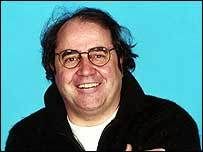 Baker was his usual zany self. He had a fantastic mind for trivia and would take every opportunity to show it off. He would set impromptu questions with the offer of a mug as a prize. He brought in a warning system, complete with yellow sticks if the celebrities dared use their hands instead of a pen. He was determined not to let
Win, Lose Or Draw
become another
Give Us A Clue
, and succeeded brilliantly.
It could have been a disaster when Danny Baker decided to quit and a replacement was brought in. However, Bob Mills made the show his own. His humour fitted the show perfectly. He knew that he wasn't presenting
Mastermind
or
University Challenge
and didn't make any attempt to attract a more upmarket audience. Well, he did wear a waistcoat on a Wednesday, but that's about it.
After seeing
Win, Lose Or Draw
, games of
Pictionary
were never the same again. I even made my own yellow cards to give people warnings if they didn't play the game properly (this included the unforgivable crime of refusing to call me Danny or Bob during the contest).
And yes, I even wore a waistcoat. A brown suede number that made me look like a young, chubby, short-haired Francis Rossi. If I could have grown a beard, you'd have sworn that John Virgo had just moved in next door. Good times.