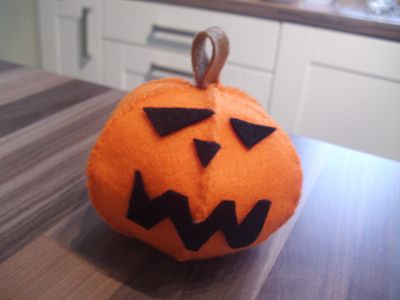 A step-by-step guide to help you make our hand-made felt pumpkins for Hallowe'en. Once you have mastered this template, it can be adapted for any other spherical object or character!
You will need:
one sheet of orange felt (a 30cmx22.5cm sheet will make two pumpkins)
some black felt (for eyes and mouth)
some brown felt (for the stalk/hanging)
orange thread
a sewing needle
scissors
cotton wool or stuffing material
a sheet of white paper (for the template)
PVA glue (optional)
This project will probably take around an hour, depending on your ability.
Method:
The pumpkin is created using six ovals which, sewn together, will form a sphere. We found a template on Google Images and re-sized it in Photoshop to make it suitable for our needs. Our oval is 11cm by 4cm. Simply trace the image below onto a sheet of white paper and carefully cut it out.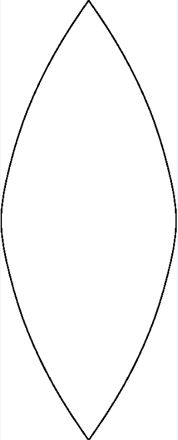 Now use this template to draw six ovals onto your sheet of orange felt.
Carefully cut out your felt pieces.
Sew your first two ovals together with orange thread, as if lacing a shoe. The result will look similar to the petals of a tulip.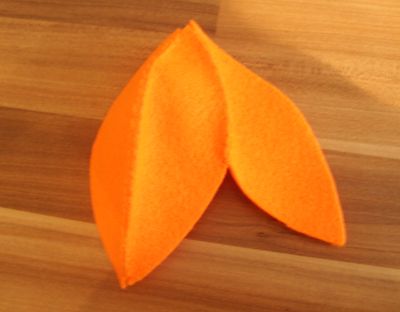 Repeat the process until the sphere is almost complete. When stitching the final two ovals together, leave approximately 4cm open for stuffing.
Cut a strip of brown felt, approximately 4cmx1cm and fold it in half length-ways. This will double as the pumpkin's stalk and a handy hanging device. At the closed end of your pumpkin, sew the stalk.
Stuff your pumpkin with cotton wool or stuffing material until it is almost busting out at the seams.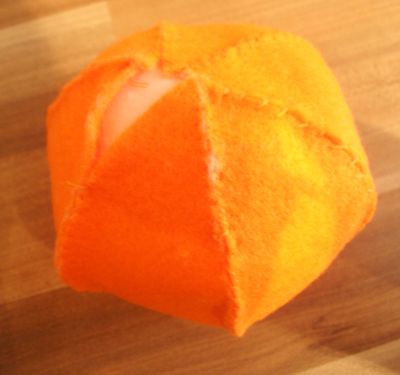 Close up the pumpkin. Cut out small 1cm triangles from your sheet of black felt for the eyes and a nose, and a 3-4cm mouth. Stick them on to the front of your pumpkin with PVA glue or sew if you prefer.
Display your pumpkin proudly on Hallowe'en!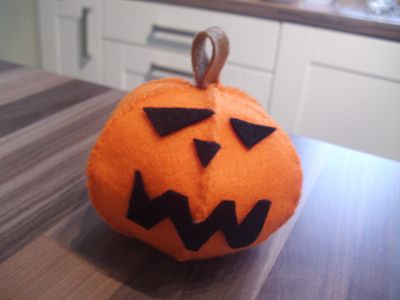 This template can be adapted easily for any other spherical project. For example, we easily made a spooky spider and even used the leftover felt scraps for its legs!
Happy Hallowe'en!