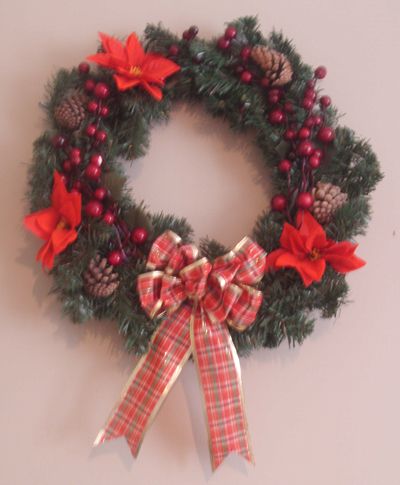 A step-by-step guide to making our luxury, traditional Christmas Wreath. For around £10 it will rival wreaths at least triple the price in high-end department stores, plus it's more fun and unique!
You will need:
One bare artificial wreath - we used a 20 inch pine wreath from B&Q for £5, but many retailers sell them in various sizes and styles, depending on your needs and location.
Two artificial berry twig decorations - ours were from PoundWorld for £1 each, but we have seen similar twigs and picks in many shops.
One artificial Poinsettia decoration - again, ours was from PoundWorld for £1, but we have seen similar bunches and picks in many shops, including PoundWorld itself. (Optional: yellow acrylic paint for the centre for added realism).
Pine cones - ours are from our local park, washed and dried for a few days on a radiator to open them up. You can buy packs cheaply in many shops if you're not lucky enough to be able to collect them yourself.
Wide wired ribbon - ours is 2 inch/5cm wide tartan ribbon from The Works for £1. The reel is 3m but we used just less than 1m for our bow. You can buy different styles of ribbon in many shops or you can buy a pre-made bow.
Green florist wire - ours is from Hobbycraft for 50p, but you can find it in many craft shops or florists.
Also useful - scissors, wire cutters, pliers, secateurs for cutting the florist wire and trimming your decorations. You may also need glue (we didn't) and a lighter or other flame if you wish to seal your ribbon ends.
Although our wreath is artificial (apart from the pine cones), there is no reason you can't make it with real materials, but it will not last as long. Of course, there is no limit to the accessories which can be placed on your wreath to make it more personal. We've seen holly, ivy, mistletoe, mini presents, birds, baubles, lights, cinnamon sticks, even gingerbread men! Go crazy, it's Christmas!
This project will take about an hour to complete, but it does depend on the materials you use and your ability.
Method
If your Poinsettia needs a little realism, paint the centre with yellow acrylic paint - you may be able to take the flower apart to do this more easily.
Plump out your wreath branches if they need it.
Make your bow now as it will be easier to plan your item placement. We used
this video
on YouTube to make something a little fancier than a standard bow, but choose whatever style you like.
Cut the tail ends to the shape you want and then lightly and quickly run the flame of a lighter (or candle) along the cut edges to seal them. This should not burn the ribbon if you do it fast, but if it does catch fire, blow it out quickly!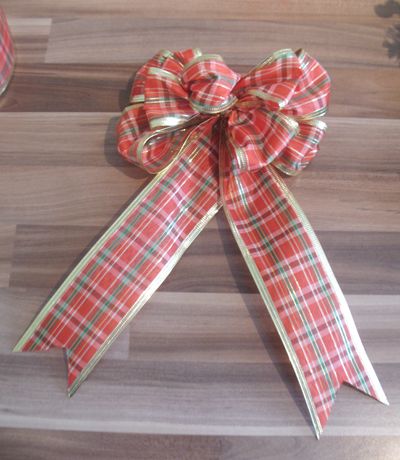 Lay your berry decorations on the wreath and then trim them to thin them out and shorten the stems, if necessary. The stems are often wired and/or very thick, so be careful and safe when you do this.
Use florist wire to anchor the berries in the place that you want them on the wreath - this will take several pieces of wire for longer and heavier decorations. Bend your wire in half to make a "U" shape, then poke it through to the back of the wreath, catch the decoration, then twist the two ends together and fold back into the wreath to make sure there's nothing sharp at the back to ruin the finish of your wall or door when you hang it.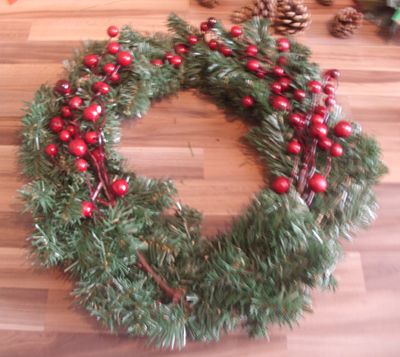 Cut your Poinsettia flowers with about an inch of stem and using the same technique as above, attach them to your wreath.
Wrap florist wire around your pine cones and attach them as before.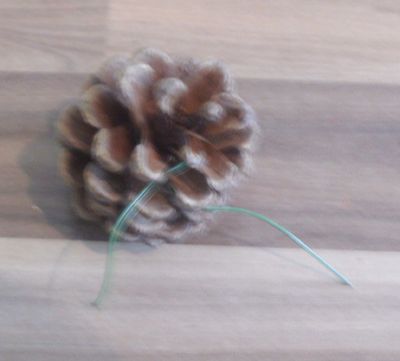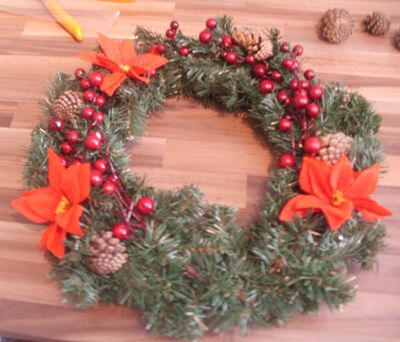 Attach your bow - if you have enough wire left over from construction of your bow use that, or use another piece.
Hang on a door or wall using an appropriate hook or hanger and enjoy the festive spirit! :D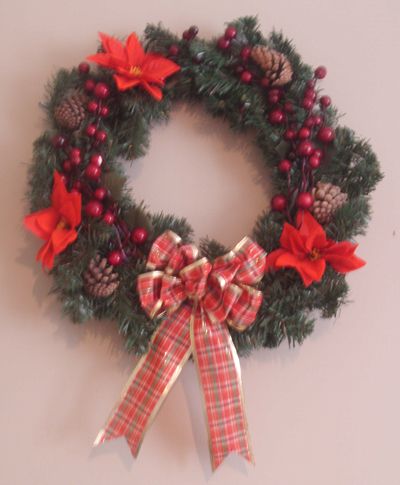 Merry Christmas!