Twenty years ago this month, I visited Liverpool for the first time as a Beatles-obsessed fifteen-year-old. I fell in love with the city immediately, not just because of the Fab Four connection, but the general atmosphere and feel of the place. After two days of exploration, and admiring the local girls from my Adelphi window, I vowed to live there one day.
When the time came to think about university, I applied to Liverpool John Moores and was accepted. But ultimately, circumstances dictated that I studied closer to home. Life took over in the intervening years and I remained in Cardiff, only visiting Liverpool again briefly in November 1999 to see (and touch!) Morrissey at the Empire. This time I stayed with a university friend in one of the suburbs of the city, which offered an alternative view of Liverpool life. I still loved it, but presumed that I would not get another chance to move to the city permanently.
But in 2014, a series of events occurred - some good, some bad - which culminated in Louise and I selling our home in Penarth and more-or-less sticking a pin in a map to choose our new home. Liverpool was top of our list - we're now Beatles-obsessed thirty-somethings - and when we visited the city in April 2015 we were lucky enough to be spoilt for choice when it came to finding the perfect home. More importantly, our offer was accepted on our favourite property.
Seven long weeks later, we completed our purchase and moved to Liverpool in June 2015. During the unpacking process, we came across a wallet of photographs that were taken during that first visit in August 1995. It was actually quite weird to look back at them, especially as so much has remained the same. It's quite funny to think that while I was unwillingly and awkwardly posing for the camera, my future home was just a couple of miles up the road.
Two weeks ago, having settled in a bit more, we took a trip into town armed with that wallet of twenty-year-old photos and a digital camera. Our mission: to re-create as many of them as possible. It felt quite surreal walking in my old footsteps, but we had an enjoyable day and appreciated the chance to really look at the city which is now our hometown. Some of the pictures were eerily identical - only the fashions give away the era. Others are barely recognisable as the same location. But all of them make us feel happy to be here, and they are a lovely reminder that I - eventually - made my teenage dream a reality.
So here it is, a walk around Liverpool then and now. 1995 is on the left, 2015 is on the right. Extra photos are included where necessary and, in all cases, larger versions can be viewed by clicking each thumbnail.
Beginning at Strand Street near the entrance to Albert Dock, we discovered our first glaring difference. In 1995, I was able to lean against a wall near the Wapping road sign. After walking up and down Strand Street looking for the same spot to recreate the photo, we realised that we had been standing there all along. In late 2013, the wall was removed and recycled for aesthetic and safety reasons. Today, only a line where it once stood is visible which does admittedly open the area up nicely.
At least we were able to find an alternative old-fashioned Wapping sign in a surviving section of an old building further down the road.
Walking through the gates onto Salthouse Quay, we arrived at our next destination - the 1995 departure point for the Magical Mystery Tour bus. Today, the bus leaves from the other side of the basin. Although there is a now a yellow Merseytravel bus stop a few metres up, the black shelter in the original picture has now gone. However, using paving stones and drain covers as our guide, we were able to find the exact spot to take the same shot.
In 1995, the Liverpool Civil and Family Court building was clearly visible, even behind the bus. Today, it is completely obscured by parts of Liverpool One and the high rise glass buildings along Strand Street. Twenty years ago, Career Connect was surrounded by scaffolding. Today, it is now clear to see.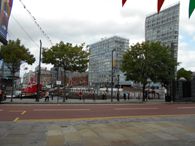 For the sake of completion, we did walk around to the present day departure point for the Magical Mystery Tour. There, we were able to recreate my mother's poor photography skills, as well as taking a shot of the bus in all its colourful glory.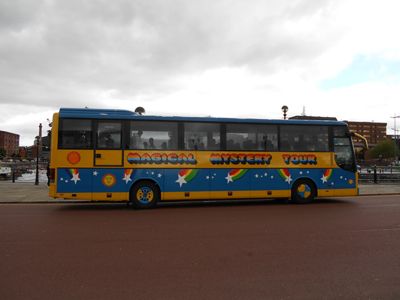 From here, we walked to The Beatles Story where barely anything has changed. The eagle-eyed amongst you will notice that the font has changed over twenty years, but apart from that (and the greeter dressed in Paul McCartney's Sgt. Pepper costume) the scene is identical. Two thumbs up!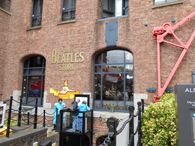 A slightly different angle outside The Beatles Story. They've done a bit of pruning since 1995 - there's no sign of that tree on the left anymore. The bins have gone to make way for the impressive archway into the museum, which replaces the tiny A-board of yore. Paul McCartney now stands where I once re-adjusted my bag and the man in the upstairs window has long since finished his fag break.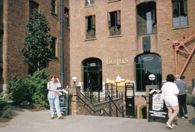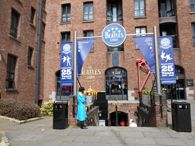 Onto Albert Dock proper, the most notable difference is the absence of the covered jetty. But look into the distance, and whilst there was nothing much to see in 1995, the Museum Of Liverpool now stands proud. You can also just about make out the newer Mann Island buildings peering over the top of the right side of Albert Dock.
This Morning was still being broadcast from here in 1995, but was on its summer break at the time of my visit so I never got to see the floating weather map. I do remember seeing lots of jellyfish, but it has been a much cooler summer this time around, so no such luck.
Albert Dock was also the location for Rock Around The Dock in 1986, where John "Rhino" Edwards almost spun himself into the water during a particularly energetic performance of Quo's Red Sky. The Damned's instruments are probably still at the bottom somewhere too...
Moving around to Canning Dock, and Hartley Quay in particular, the Museum Of Liverpool once again fills the empty space in the distance.
The benches have moved around slightly since 1995, but for old time's sake we recreated my original pose in as close a position as possible. I'm a lot less shy these days!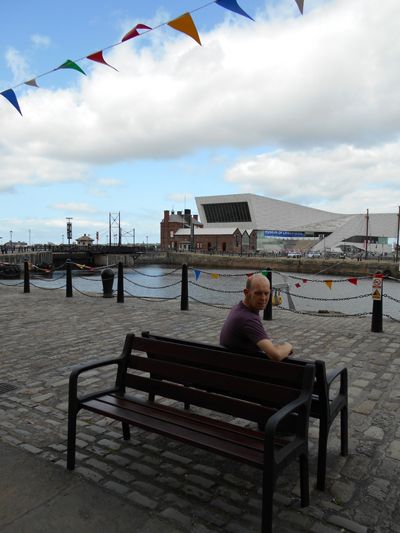 Another shot from further up Hartley Quay shows the full extent of Liverpool's waterfront redevelopment over the last twenty years. Of the old dock structures, only the Great Western Railway warehouse remains in view, dwarfed by the Mann Island buildings. The George's Dock tower and White Star building are completely obscured from view and the three graces now hide behind the Open Eye gallery. As with most pictures in this area, the Museum Of Liverpool makes another appearance too. It's all very impressive.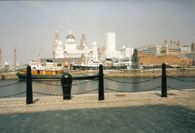 Our final photo in the docks area is the Merseyside Maritime Museum. It hasn't changed a bit, although the anchor has moved slightly. Maybe Terry Hollands visited at some point.
From the docks, we jump to Matthew Street. Unfortunately, in the days of a limited amount of film, my mother did not take any pictures of the route through the city centre. If she had, it would have made for interesting viewing as Liverpool One has appeared in the time since. Instead, our first picture in this area contains some of the biggest differences.
In 1995, I was pictured outside The Abbey Road pub. Firstly, I would like to point out that I was not urinating, simply reading the menu. As with the Wapping wall, it took us a long time to realise that we had walked past the building about three times before learning that it had changed beyond recognition. Now, it is the home of the Flares theme bar next door to The Cavern, featuring a Beatles mural in the entrance.
The two lower capsules have been removed and replaced with the large windows which show off Cricket's wares. However, the Liver bird and rose designs are still visible. The Cavern Walks entrance has been filled in with glass and is now home to Vivienne Westwood. The glass even extends into the alcove which previously held The Abbey Road's sign. The Cavern now has a much more noticeable sign, separating it from Flares, and an office building has since appeared in what was then a car park. Oh, and the road has been re-done as well.
Slightly further down Matthew Street is The Grapes, which has a corner dedicated to The Beatles which we are yet to visit (I didn't get around to it in 1995 either). Barely anything has changed, apart from a new sign and some nice chequer-board steps. They still do a good line in hanging baskets.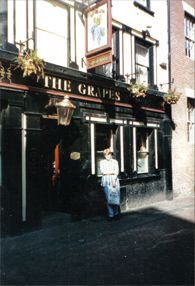 A bit further again, and we arrive at The Beatles Shop. Unsurprisingly, it hasn't changed in the slightest. Cafe 31's lack of hanging baskets is the only difference between the two pictures.
However, I was even more thrilled to find that the interior of The Beatles Shop hasn't changed either (they even still have the ultimate in 1990s souvenirs - googley-eyed bugs).
On the day we recreated the photos, somebody had put an apron on Paul McCartney. However, just a week previously when I visited for the first time in twenty years, he appeared exactly as I remembered. Luckily we took a picture, seeing as I almost collapsed when I (ahem) saw him standing there.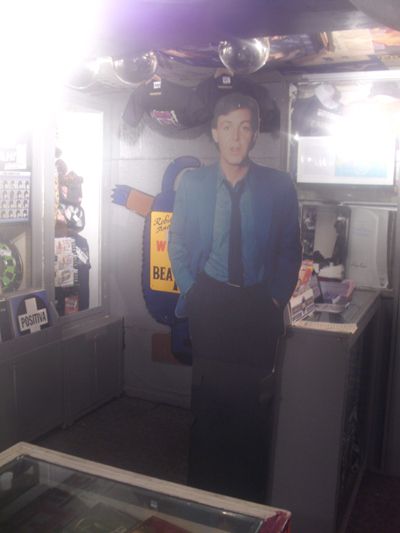 Finally, a slight cheat as the last picture was taken on our house-hunting visit in April. But it's the Adelphi Hotel, which acted as a base on both visits. My room in 1995 was much bigger as we were on a budget this time around, but both pictures show that little has changed. We'll always have fond memories of eating Honey Loops out of the bag before leaving to view the house we now call home.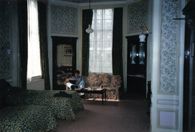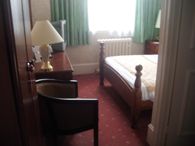 So there we have it, a lovely walk down memory and present lane all at the same time. Having come from a city like Cardiff which has tended to knock things down and ask questions later in the same time period, it was pleasing to return to Liverpool and see so many familiar sights. It would be interesting to repeat our project in another twenty years. Based on our findings this time, it's probably a safe bet that cardboard Paul McCartney will still be in his usual spot!