Codemasters' Dizzy games were amongst our favourites on the ZX Spectrum, so we were thrilled to read that a long-lost instalment - Wonderland Dizzy - had been discovered and released for free (as a ROM or online) at the end of 2015. We were still in house-moving mode at the time, so weren't able to play it immediately or take part in the #IBeatDizzy challenge. But now we've finally settled into our new home, we took the opportunity to set up our NES emulator and sit down with an old friend.
Wonderland Dizzy is described as an enhanced remake of Dizzy's fourth adventure, Magicland Dizzy. But it's far more than a carbon copy of a game that we played over one hundred times during the early Nineties.
Magicland Dizzy always had elements of Lewis Carroll's Alice stories - most notably when Dizzy jumped through a mirror to a chessboard, reversing the controls - but Wonderland Dizzy takes that idea further by introducing a variety of Alice characters and items into the game world, adding to the cast carried over from Magicland. This means that Dizzy (or, for the first time, Daisy) must now help the White Rabbit and Mad Hatter, as well as finding his way past the Queen and her guards if he is to help his friends escape Wonderland. Quite the task!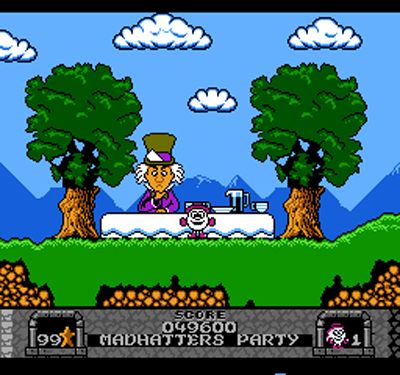 The controls are simple, just use the NES' D-Pad to move Dizzy and then one of the buttons to jump and the other to use or drop items. Having spent years mastering the technique of moving a joystick diagonally up (or pressing Q and O or P simultaneously) on the Spectrum, we found it much easier to control Dizzy this time around. Walking on clouds is far less scary, for example, as it reduces the risk of Dizzy jumping off at an inopportune moment because you've pushed slightly up on the joystick.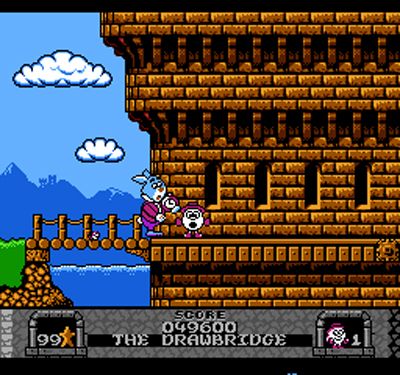 Similarly, the health system is much more forgiving than the Spectrum games. Now, Dizzy will only become dazed if he takes a slight knock from a big fall or drop of water, before continuing on with the task at hand. The only things that we have found to cause death are lava, a fall into water or the Queen's guards' pointy sticks (we found this out the hard way as we triumphantly bounced our way back to the finish line after rescuing the final character!)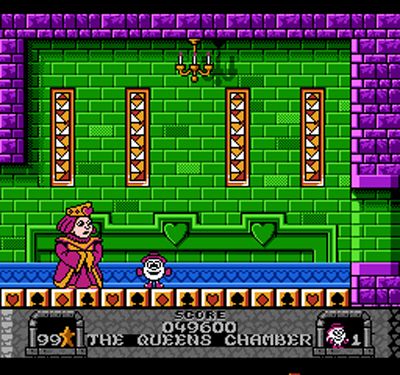 If you're playing as Dizzy and Daisy, you will alternate between characters with each loss of life, with all inventory items instantly transferred. When all lives are lost, it's Game Over, but it's unlikely you'll ever get to that point. If you're really struggling, you can always play in Fun mode where you'll never lose a life - it's like playing a Spectrum Dizzy using Pokes!
Wonderland Dizzy looks gorgeous, with beautiful colours throughout. If, like us, you have the Spectrum version engrained in your memory, it's pleasing to see Dizzy's world in such detail, especially the areas of the map transferred from Magicland Dizzy, like the Monolith, Bushy Grove and Sleepy Hollow. There are some nice touches of humour, especially with the inclusion of a certain cheat cartridge-endorsing character who'll appear when you use two specific items together. We also love the inclusion of a Leather Whip which allows for Indiana Dizzy moments!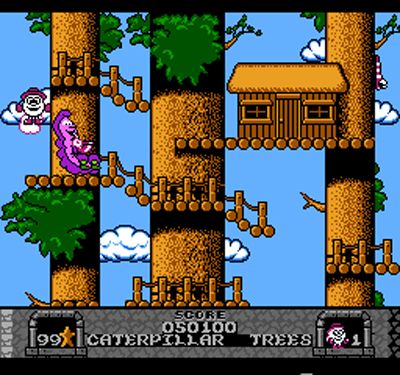 If you're familiar with Magicland Dizzy, you'll have a head start on most of the puzzle solutions, although many of the items are in alternate locations, or need to be used differently. Similarly, whilst most of the Yolkfolk find themselves in the same predicament as Magicland, a couple have got into different scrapes. Denzil, for example, has now been shrunk to an adorably tiny size, rather than getting trapped in ice. It all adds up to a nice little challenge for old and new players alike.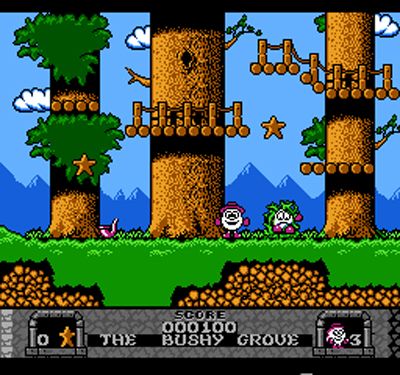 There is no doubt that we would have loved Wonderland Dizzy if it had been released back in 1993, so it's brilliant to have been given the opportunity to finally play it two decades later. It makes you wonder what other obscure gaming treasures could be lurking in attics around the world!
We've written a full
walkthrough
for the game, as well as a list of
star locations
.