Advances in technology can create paranoia. Worries about identity theft, hacking and viruses are often in the news. But I wonder how many people have imagined a world where it is possible for a former Beatle to know your every movement, sometimes before you've even made it, and be waiting for you in a white VW Beetle at every turn. Back in 1985, Argus Press Software gave us an artist's impression of this terrifying world. In Give My Regards To Broad Street, Big Brother has a name. And it's Paul McCartney.
Based loosely on the 1984 film of the same name, Give My Regards To Broad Street gives you control of Paul McCartney's futuristic set-up, including a map scanner and the ability to track his friends' comings-and-goings on the London Underground. So that's what he gets up to behind that big brown gate. Given that the game was released decades before GPS, Google Maps and Oyster cards, it's actually quite eerie playing through a scenario that - aside from hacking the Oyster system - could be carried out by anybody with basic equipment today. But back then, only Paul McCartney's millions could afford such tech.
Starting outside Abbey Road Studios, it's your job to drive around the streets of London in the Beetle from the Abbey Road cover, looking for your friends and colleagues in a desperate bid to recall the melody of No More Lonely Nights. This must be completed before the deadline of midnight imposed by evil Rath, who will take over the studio and throw you out on the street if you're not done by then. Easy enough in theory, but the game gives you no directional pointers, very little in the way of guidance and the game map is arranged like the London Underground diagram. Plus Rath's cronies are driving around trying to Ram into you at all times. Paul was lying, as you'll have lots of lonely nights - and days - trying to figure it all out. That explains Macca's face on the cover.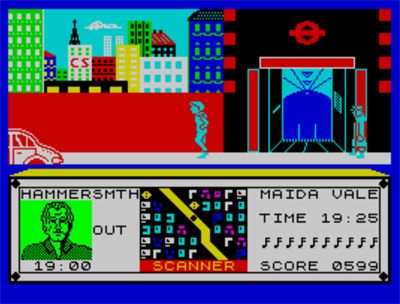 Graphically, Broad Street is a top down driving game, like a primitive version of the first Grand Theft Auto. Outside Underground stations, you can exit the vehicle and the screen will change to a side-scrolling view showing Paul McCartney - baring an uncanny resemblance to Daley Thompson in his Decathlon game - pacing up and down waiting for his friends to come along. But usually it's just a traffic warden, who'll yell "Gotcha!" if he gets to your car before you return. Should you crash into one of Rath's men, the screen will flash with the familiar stripey loading pattern of Spectrum games and you'll be sent back to Abbey Road.
As a 10-year-old Spectrum gamer in the late 1980s, I was already at a disadvantage as my version of the game was part of a compilation called 10 Computer Hits 3. As such, I did not have a copy of the map wallchart which came with original pressings of the game. I had also never been to London and had yet to become the Beatle-maniac that I am today. Therefore, I had nothing to do but drive aimlessly around the vast map hoping to bump into somebody,
anybody
. But it never happened, not even a traffic warden. I was clearly lacking The Knowledge.
Names and faces would pop up in the corner, with the name of a Tube station they had just entered or left. But it's no use knowing that Linda is at Holland Park when you're somewhere around Maida Vale and have no idea which direction to point. And even if you could get there, she'd be in Bond Street by then anyway. So I gave up, and the game remained in its case for years.
But now, thanks to obsessive Spectrum fans all over the internet, I finally have a copy of that wallchart. I've also seen the film, and am aware of all the characters. But the game is still no piece of cake. It's one thing knowing where everything is, but you need to know when you have to be there. It's impossible to wait for the alert and head in that direction, because you'll never get there in time. The game manual helps a little, giving character biographies and the names of their most frequented Underground stations, but it's still like looking for a needle in a haystack.
But there is a solution. Especially if you take your games very seriously, and like to make copious handwritten notes of everything important. A friend would also be useful.
Playing the game one afternoon, Louise and I realised that the game is not as random as it first appears. The characters do the same thing at the same time on every playthrough. Linda (or is that Jane Lynch?) is always at Covent Garden at 9.58am. Harry (or Hairy Harry as we like to call him) is always at Notting Hill around an hour later. And Ringo is never out of bed before 2pm. We had cracked it!
So, armed with an orange notepad, we let the game run through and jotted down every single time and location thrown up by the game over the course of the time limit. Then, armed with the map, worked out the best order to find everybody. With this information fresh in our minds, we attempted a trial run-through and couldn't believe it when we managed to complete it first go with ample time to spare. We didn't even have to meet all seven characters to get the complete song. A disastrous crash into one of Rath's minions at West Kensington meant that we missed our meeting with Ringo - It Don't Come Easy - but we still managed to make it to the mixing desk finale with hours in hand after our sixth meeting.
The mixing desk stage is quite odd, as the manual gleefully gives only cryptic guidance. After fiddling with the knobs for a bit, we worked out that you need to get all of the readings aligned. Seemingly, the higher up the scale you get, the more bonus points will be deposited into your account. We managed a painfully low scale but still received 700 points. And that was it - no fanfare, no applause, just a "Press Fire To Restart" prompt. With this in mind, the more interesting ending can actually be obtained by not completing the game. At the strike of midnight, an animation of Paul busking outside an Underground station will be played, accompanied by a painful digitised version of No More Lonely Nights that'll get stuck in your head for hours afterwards.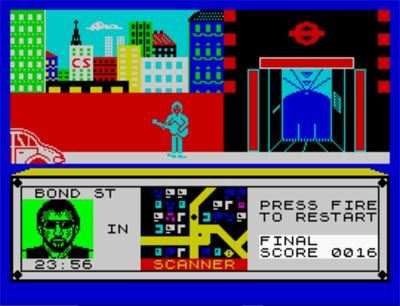 Despite the anti-climax of the good ending, you do feel quite the sense of achievement completing your mission. It really is difficult navigating around with the bare minimum of guidance. Give My Regards To Broad Street is a perfect example that modern games are often easier than they used to be. Today, the game would be an open world with navigational pointers at all times. You would never have to pay too much attention to a map or character biography because a beacon would guide the way precisely. That wouldn't make it a bad game, far from it. A modern remake featuring lifelike characters and locations would be amazing. It could include sub-missions where you play in the space-age costumes from the Silly Love Songs section of the film. You could even incorporate Rock Band-style gameplay in the studio section, where the player would have to press the right buttons at the exact time, or Just Dance elements for Ballroom Dancing where you make Paul's moustache have a life of its own. Ringo could even have his own downloadable content called Capture The Kale.
Give My Regards To Broad Street is a real thinking game. It's like those Logic Problems that used to appear in Puzzle Compendium magazine, when you'd spend all of Boxing Day putting crosses in various boxes, cross-referencing all points and still end up miles away from the solution. Once you've cracked it, you'll complete Give My Regards To Broad Street in twenty minutes and never scratch your head over it again. But getting to that point is half the fun, and the fact that it's Beatles related is even better. Thumbs up!