Anything set around Christmas gets our attention, being total festive fanatics. But the advert for Tom Clancy's The Division that I saw on YouTube over the holidays really got me excited. Cue squeaks of delight when we got into the closed Beta test and bouncing around when we heard there was to be an open Beta later on with a new mission included.
As the proud new owners of a PS4 (of course, it was a Christmas present), we're not overly well-versed on what it can deliver in the graphics department and how The Division matches up to it's peers. However, it looks gorgeous to us, even at this Beta stage. It plays so smoothly and the level of detail is stunning - you can even leave muddy footprints in the snow if you want to ruin that perfectly smooth white ground. Which we do!
Wandering around the devastated streets of New York, you spot all kinds of little things that gamers who want nothing else but to get stuck into some serious shooting will miss. For a game that is also really impressive at the serious shooting, it's nice to have great scenery as well! We often wander around sightseeing in this kind of open world game, forgetting that there's some kind of terrible post-apocalyptic mess were supposed to be cleaning up. Who cares if we need to find a virologist to try and prevent the death of all humanity? Getting a selfie in front of the Empire State Building is far more important. Hang on, why are there a buch of flame-thrower wielding maniacs marching angrily towards an innocent tourist? Oh yes, we're packing a machine gun and invading their territory. Oops! OK, perhaps we should try and find the Library from Ghostbusters instead. Cue Google Maps. Grrrr, it's outside the Beta area. Oh well, maybe we should get back to that mission...
We really meant to do just that until we spotted a dog wandering around looking like it wanted some attention. I don't know if most people ignore or shoot them, but we follow them in the hope they will lead us, like Lassie or Skippy The Bush Kangaroo, to a civillian in distress, perhaps having fallen down a mineshaft. So far, sadly, this hasn't happened. Maybe in the full game - Ubisoft, are you listening?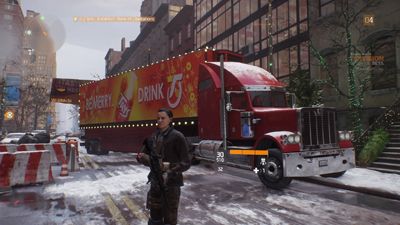 One of our favourite moments of wandering happened when we were on our way to establish a base. We rounded a corner and spotted a big red truck with white lights all around it. Surely it couldn't possibly be the Coca-Cola truck?! It may not be branded Coke, but it is a drinks truck and it is Christmassy, so close enough! We've had the pleasure of seeing the real Coke truck twice (in Cardif and Liverpool), but the last place we expected it was a virtual New York! That made our day!
When we finally stopped playing Spot The Christmas Decorations we attempted the missions on offer. As a newly-minted agent in the closed Beta we struggled with the Madison Square Garden shoot-outs, but with our previous experience it was a nice challenge. At least we didn't get stuck in a peice of scenery the second time, helplessly listening to the sound of gunfire getting closer...and closer...and we're dead.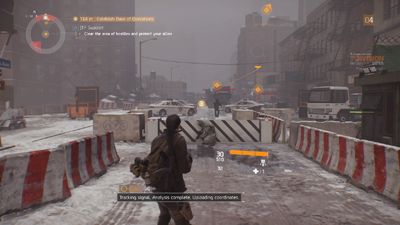 The second mission was much tougher, especially at a level lower than recommended. Remember those pesky flame throwing gentlemen? They were back and brought friends in the form of shield carrying enemies that sneak up on you. This had us screaming that there must be a melee attack button, but no such luck. They really don't like sticky bombs though!
If you happen to watch the videos mentioned at the end of this post you may notice that the play style can vary between shoot first, ask questions later and a slightly more considered approach. In games like this we switch control between the two of us every checkpoint or so. The crazed nutter who runs in guns blazing is me (Louise), and the slightly more sensible one is Gareth. Both approaches work to a degree, but this is a cover shooter so I've learnt the value of a little care! Mostly. Near the end of the Subway Morgue video is a spectacular example of how much fun you can have running headlong into enemies - cue gorgeous exploding flamethower and two very dead Cleaners!
The Dark Zone is not somewhere we spent much time, but we did pop in to check out the PvP action during the closed Beta. Mostly people left us alone to loot and killing AI characters gave us some cool gear. Waiting for the evac chopper to arrive saw about three of us take up strategic positions just in case of a player ambush that never came. I don't know how polite people will be by the time the full game comes out, but it was a rewarding experience when we tried it and one we'd definitely spend more time there. We did get attacked by someone when we were minding our own business, then defending ourselves turned us into a rogue agent and got us killed. We may have been mistakenly labelled as rogue before he shot us, or he could have just been a homicidal theiving maniac. Or she. We're all for equal opportunities.
We loved this Beta and we'll definitely be getting the game later in the year. See you in the Dark Zone...
We've compiled a
playlist
of our Division Beta gameplay to show it in action.