A wise philosopher once said, "it's only a game so put up a real good fight. I'm gonna be snookering you tonight." We've always loved watching Snooker, starting way back in the 1980s at the height of Snooker Loopiness, during primary school holidays before we had even met. It soon became a shared teenage obsession - we were probably the only non-irate Buffy fans whenever BBC2 took it off for the Snooker - and continued into our adult lives. Finally, the planets aligned and we spent a glorious week at the 2015 Welsh Open in Cardiff where we sat gleefully in the front row and even got the chance to meet some of our heroes.
Trouble is, we've never been able to play the game ourselves. Unless you count the time we attempted a game of Pool in a Bristol pub and sent the cue ball flying across the bar. Admittedly, Louise did eventually pull off a superb shot after a bit of practise, but we were never going to set the cue sports world alight. Thankfully, Snooker has long gone hand-in-hand with our other obsession - video games.
So to mark the start of the 2016 Welsh Open - we've since moved 250 miles away and can only watch on television this time - we're taking a look at Snooker video games through the years, from primitive ZX Spectrum text simulations to the realism of today's offerings. It's by no means an exhaustive list, or a countdown of the best, just games that we have enjoyed on various machines over the decades. In many cases, the titles were multi-format releases, but we've based our thoughts on the version we used at the time. We've also intentionally left out any games that are primarily Pool-based, and even though Snooker tables make at least two appearances in the Resident Evil series, they don't count! So, let's get the games on the baize...
Snooker (Artic, 1983, ZX Spectrum)
Although not the first example of the sport on Spectrum (Sinclair Snooker had offered a text-based simulation on the ZX81), 1983's Snooker was one of the more recognisable versions of the game, if not entirely realistic. Balls struggled to move in anything other than vertical or horizontal straight lines, seemed to be magnetically attracted to each other, and could even be simply pushed into pockets with the cue. But with practise, a decent game of Snooker could be enjoyed and the top-down view - which is still available in most modern Snooker games - kept things simple.
Steve Davis Snooker (CDS, 1984, ZX Spectrum)
By 1984, Snooker was huge and Steve Davis was the most famous of the sport's household names. Video games were also hitting their stride and celebrity endorsements were all the rage. Handily, Steve Davis also loved computer games. It must have been like Christmas in Barry Hearn's office when the idea for this came through. But thank goodness it did, because Steve Davis Snooker is still a brilliant simulation of the game. A point-and-click system offered far more control than 1983's Snooker, with spin and power gauges available, and the balls moved exactly as you hoped. With practise, decent breaks could be built and afternoons lost to the game. The only downside - on the Spectrum, at least - was that colour palette limitations meant that the green ball was actually light blue and the brown looked like a red with measles. Oh, and the sound effects were terrible - like one of those noisy drawings that they used to do on Rainbow - but at least you could turn them off.
Professional Snooker Simulator (Codemasters, 1987, ZX Spectrum)
If there was a sport in the 1980s, you can be sure that Codemasters simulated it. Snooker was no exception, with this carbon copy of HARD Software's Tournament Snooker which had received a limited release the year before. Playing almost identically to Steve Davis Snooker - the green was still light blue on Spectrum - this game introduced an aiming aid of sorts by displaying the white ball in the top left corner, plus its relative position to any nearby ball as you moved your cue clockwise around it with the Q key. This led to some impressive break building when used in conjunction with the power and spin meters.
Snookered (Top Ten, 1988, ZX Spectrum)
By the mid-1980s, Snooker was so big that Dave Lee Travis even based a quiz around the rules of the game on his Radio 1 show, where callers would answer a Red general knowledge question followed by a specialist Colour. Give Us A Break was so successful that it even spawned an arcade machine that occupied me greatly while waiting for my cousin to be served with chips in Penarth's Pandora restaurant, although my eight-year-old general knowledge was not really up to scratch. Snookered was clearly heavily inspired by Give Us A Break, and played exactly the same. Finally, it was possible to fail miserably at home without wasting vast amounts of ten pence coins. The nearest thing to a video game version of Big Break - hugely addictive.
Snooker Management (D&H, 1989) / Snooker Manager (Image, 1989) (ZX Spectrum)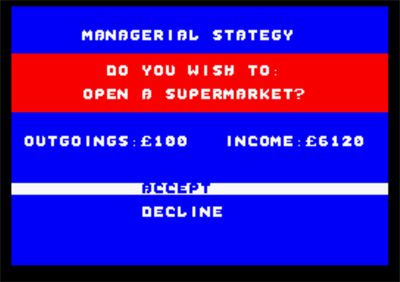 1989 saw the release of two games both attempting to be crowned king of the Barry Hearn Simulator genre. Both were text-based affairs which involved making numerous choices for a fictional snooker star ("your boy" in the former) before watching a scrolling commentary detailing his matches against the real stars of the day. Snooker Management gave the impression of seedy business with the option to "Fix Match" but it was just the game's way of arranging a meeting. Innocent times. Snooker Manager even added some visuals, including a flashy (literally) arena. In theory, it could have been boring. But like the sport it was based on, the strategy was very addictive and the "just one more go" factor was present in both games. Snooker Manager just wins out of the two, mainly as it played like the equally addictive Tracksuit Manager from the year before, but also because it's probably the only game where you'll be asked "do you wish to open a supermarket?"
Snooker Masters (Lambourne, 1990, ZX Spectrum)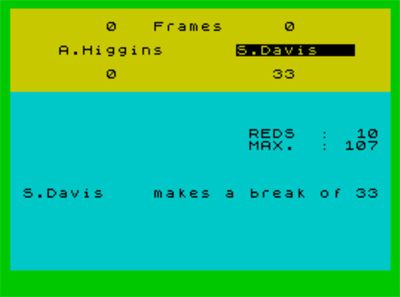 A slight step backwards at the turn of the nineties, Snooker Masters was a text simulation which enabled you to watch fictional matches between real players. A management game of sorts, with a gambling simulator element thrown in, but ultimately just a bit boring compared to other games of the time.
3D Snooker (Players Premier, 1990, ZX Spectrum)
One of the first games to move away from the top-down view, 3D Snooker offered a fixed camera TV-style presentation whilst keeping the playability of Steve Davis Snooker. Perspective often made it quite difficult to judge shots further down the table, but it was a step in the right direction, especially given the limitations of the Spectrum.
Jimmy White's Whirlwind Snooker (Archer MacLean/Virgin, 1991, Sega Mega Drive)
Moving into the 16-bit era, it took another licensed game to finally better Steve Davis Snooker. This time, it was Jimmy White with the first in what would become a trilogy of games bearing his name. Whirlwind Snooker still looks great by today's standards with realistic physics and a couple of camera angles to choose from, plus brilliant music inspired by the Pot Black theme. One of the first games to offer an aiming aid, it was possible to line up shots with more accuracy. But you still had to know what you were doing as it only showed you the cue ball's path. There's even some humour thrown in, as the balls willl start taunting you if you take too long to line up a shot. Although Jimmy's claim that it's just like playing the real thing makes you wonder what kind of hallucinations he'd been having at the table.
Championship 3D Snooker (Zeppelin, 1992, ZX Spectrum)
By this point, the Spectrum was struggling to compete more than ever but it still stuck in there. Championship 3D Snooker was a decent effort. Two views added to the realism - top-down when aiming which switched to TV style to show the shot being taken - but it featured a lot of colour clashing which made it difficult to see what was going on at times. Having said that, it was a huge step forward compared to Spectrum games a decade before and was overall the best looking Spectrum Snooker game. It was also the first Snooker simulation that I really mastered, and hours of fun were spent playing it during school holidays. The cover also featured a cue ball dressed as Dennis Taylor, so it was worth it just for that.
Jimmy White's 2: Cueball (Archer MacLean/Virgin, 1999, PlayStation)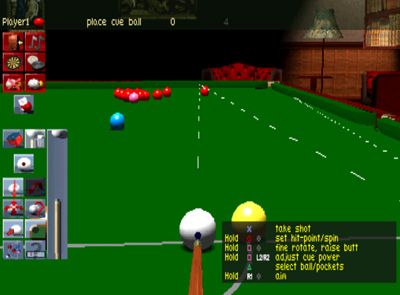 Jimmy's awkwardly-titled sequel to Whirlwind Snooker was able to use the full power of the PlayStation and Dreamcast. Set in Jimmy's Resident Evil-style mansion (comlete with door-opening animations), Cueball offered a choice of Snooker or Pool against an invisible competitor - only his gloves and cue were animated. An eerie invisible referee would also replace the balls. Opponents such as Clueless Colin and Juan Forsevn would attempt to get in your way on the route to the ultimate goal of playing Jimmy himself. An amazing simulation, with numerous camera angles, realistic ball physics and sound effects. It really was like playing the real thing, and just as difficult. The aiming aid still only showed the cue ball's path, and didn't take the other balls into account, so you were generally better off turning it off and using your own judgement. Music provided accompaniment to your matches - The Entertainer for Snooker and Peter Gunn Theme for Pool - and you could even relax with a game of Darts or Dropzone afterwards. An overall brilliant game that would ultimately be beaten a year later when Snooker games changed forever.
World Championship Snooker (Codemasters, 2000, PlayStation)
During the late nineties, Codemasters had returned to old ways with a variety of brilliant licensed sporting simulators. Easy to pick up and play, even easier to get lost in for hours, this was a boom time for the publisher. TOCA, Colin McRae, Brian Lara and LMA Manager were joined by the official game of the World Snooker Championship. To this day, it is one of the most perfect versions of video game Snooker ever released. Much of the reason for this is the aiming aid system, developed by Blade, which showed not only the path of the cue ball but also the subsequent direction of the target ball. Such an obvious system, but never implemented before. It allowed the player to achieve huge breaks regardless of skill level and feel like a professional. Basic commentary from Dennis Taylor and real-life Snooker arenas were the icing on the cake. The game was so perfect that it remained largely unchanged for three more sequels across two PlayStations, PC and original XBox.
Jimmy White's Cueball World (Archer MacLean/Virgin, 2002, PC)
Jimmy returned for one final game (unless you count his "official endorsement" of Archer MacLean's Pool Paradise in 2004) with 2002's Cueball World. Probably the best of the Jimmy White games, it changed little but pushed the surrealism of previous instalments even further by allowing you to play at various exotic and fantasy locations such as Stone Henge. Video of Jimmy relaxing in a leather chair would follow each match, where he would either praise you or, more often than not, make you feel like an idiot.
Showcase Snooker (Idigicon, 2005, PC)
A basic, budget-price offering for PC which was most notable for its Cueball World-inspired fantasy locations, including a room filled with rubber ducks and another covered with framed pictures of Morrissey. An inoffensive little time-waster.
World Snooker Championship 2007 (Sega, 2007, XBox 360)
By 2007, the official game of World Snooker had moved over to Sega but was still developed by Blade. By this point we loved the games so much that we pre-ordered it to be able to enjoy it on day of release. The aiming system was tweaked to one final level of perfection by showing the final destination of the cueball. This allowed for professional level gameplay - we almost managed a 147 break, only missing out on an out-of-position black. I don't think we'll ever get over that. John Virgo was added on commentary duty for added dry humour. "I dropped my pen!"
World Snooker Championship: Season 2007-2008 (Deep Silver, 2007, Nintendo DS)
Basically the same game as WSC 2007, but with a square-jawed Shaun Murphy on the main menu and the ability to use the DS stylus for touch-screen cueing. A great little time-waster and Mark Selby on the cover to boot. Louise was happy.
WSC Real 09: World Championship Snooker (Koch Media, 2009, PS3)
Another console generation, another publisher. Still developed by Blade, who realised by now that you couldn't better perfection, WSC Real simply offered more of the same in glorious HD. More players, more arenas, a choice of Snooker or Pool and online play. The Wii version (WSC Real 08) even allowed for motion control for added realism. The player creation tools also offered endless possibilities. Our latest effort is based on - what we like to call - Mark Selby's 1980s Cardiff Bus driver uniform. A sequel to the game, WSC Real 2011 followed two years later, with Move compatibility on PS3 and three Ronnie O'Sullivans on the cover. Once again, Louise was happy.
Hustle Kings: Snooker Pack (Sony Computer Entertainment, 2010, PS3/PS4)
With no official Snooker game since 2011, Hustle Kings is the best place for video game Snooker today. You need to buy downloadable content to gain access to Snooker, but it's well worth it. We previously enjoyed Hustle Kings on PlayStation Home before it closed, then bought our version of the game as part of the After Hours Athletes compilation which added PlayStation Move compatibility and the Snooker pack for free (thankfully we redeemed the code with hours to spare on the expiry date!)
The visuals and sound effects are so lifelike and the controls feel very natural. Playing with Move is a little fiddly but it's a great little addition to the game. The aiming aid is similar to the Blade games, but you get no assistance with where the cue ball ends up. But after years of playing the official games, we find that we've become better players and don't actually need so much guidance anyway. There are no official players or arenas, and the game actually feels more like one of the Jimmy White titles with little touches of humour, but it's a fun way to spend an afternoon and online play makes it feel like you're at the local Snooker club.
In 2015, a free-to-play version was released for PS4 which includes online Snooker as standard - you only have to upgrade if you wish to have unlimited offline access to the mode. At the time of writing, this version is the most recent fix for video game Snooker addicts.
So there we have it, the evolution of snooker games over thirty years and seventeen games. It's interesting to see that whilst graphics have moved on considerably, allowing for more realistic physics and break building, many of the early ideas still remain. It's always nice to be given the choice of realistic arenas and player names, but ultimately all that matters is that the balls do what you want and you have fun getting them to the pockets. For that reason, we're just as likely to spend an afternoon with Steve Davis Snooker as we are Hustle Kings. We just love Snooker, and we don't care how we get it!