Across The Water From The Western Wall
Nearest Wayshrine: Port Hunding
Go South from the Wayshrine until you reach the water's edge. Look right to see the Skyshard on top of the rocks and climb the slope to reach it.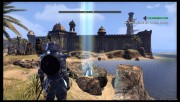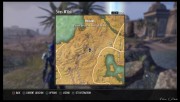 The Mouth Of The Grave Stands Open
Nearest Wayshrine: Port Hunding
Head South East from the Wayshrine and go through the large archway. Follow the main road, taking a left at the fork, then head North East towards The Grave. The Skyshard is to the right of the entrance on a sandy slope.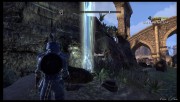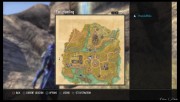 Crashed Through A Saintsport Roof
Nearest Wayshrine: Saintsspot
Head East from the Wayshrine into Saintsport. Continue East across the town square to the domed building with stripey arched windows and door. Enter the builing and turn immediately left to see the Skyshard.