On the afternoon of Christmas Eve 2016, just twelve hours after returning home from the Status Quo gig at Liverpool's Echo Arena, we were informed of the sad news that Rick Parfitt had passed away. Exactly a day before, we had been sitting in the Cavern Club with a couple of hundred excited Quo fans, enjoying a pre-gig warm-up hosted by the tribute act Stated Quo. The atmosphere had been electric, like travelling back in time to an early Quo gig in a hot and sweaty cellar. The mood continued through to the main event that night, with thousands of Quo fans singing along to every word, full of Christmas cheer. Rick was never due to appear at the concert due to health reasons, but the tour programme did feature a message hinting at things to come in 2017. Nobody could have foreseen the devasting news that would follow the next day - not even the band themselves. As such it was just a happy, rocking day out which, in hindsight, served as a fitting tribute to Rick.
I met Rick Parfitt once, when I was thirteen, at a Christmas book-signing event for the Just For The Record autobiography in 1993, the day after seeing them at the old Cardiff Ice Rink. My mother had taken me and Mez (my best friend at the time) into town early that morning to ensure that we would have a good place in the queue. When we arrived at Lear's Bookshop, we were amazed to find that we were first in line. Just two days before, we had been recreating the Live At The NEC album in my bedroom with a couple of tennis racquets for guitars and an empty tin of Thornton's Special Toffee doubling as Pete Kircher's drums. Now we were faced with meeting the real thing, and we were full of surprising bravado, boasting about all the things we would say to our heroes. Of course, those feelings didn't last long and by the time Rick and Francis Rossi arrived outside, we had turned an ashen white and had become rooted to the spot.
It didn't help that Rick tripped over the raised entrance step and almost went flying into a Stephen Fry display, and it all felt very surreal as they took their seats and manager David Walker started faffing about with pens and mumbling under his breath (something about logistics, probably). When they were ready to start, I literally had to be pushed towards Rick and Francis by a security guard who looked uncannily like the bloke from the Dear John video, pre-Quo makeover. I spoke to Rick first, who said that it was nice to meet me, to which I replied with some sort of weird noise. But he pushed on, asking me if I had been to the show the previous night and whether I had enjoyed it. By the time I got to Francis, I had entered my stride and possibly managed a few words of English. Thankfully, my mother was on hand with a disposable camera otherwise I would never have been entirely sure that it really happened.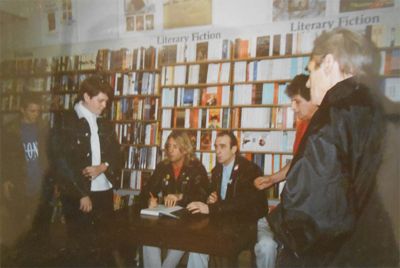 I would have been happy if that was my only experience with Quo, but a couple of years later I found myself in the front row at the Cardiff leg of the Don't Stop tour. Standing there, rocking away with Mez again, we caught Rick's eye and he gave us the unmistakable nod of recognition. It was the kind of smile you get from your regular member of staff on the Tesco checkout, or when you bump into your old Welsh teacher in the lingerie section of Marks & Spencer. An acknowledgement that they're taking notice of their surroundings, not just going through life on auto-pilot. A small gesture, but hugely appreciated.
The following year, we found ourselves down the front again for the Can't Stop tour. Once more, Rick gave us the nod. Now I'm not saying for one minute that Rick spent the other 364 days of the year thinking about those two awkward teenagers from Cardiff, and I'm not sure if he would have recognised me outside the context of a Quo gig - if I had randomly bumped into him at Chessington World Of Adventure, for example. But I always thought it said a lot about the man that he could play all those thousands of shows around the world, over many decades and still pay attention to a nameless face in the crowd.
Mez and I drifted apart after school, and I was soon sharing my Quo passion with Louise instead. The last time we saw Rick onstage with Quo was at the Cardiff Motorpoint Arena in 2010 on the Quid Pro Quo tour. Once again we were down the front and Francis and Rick spent most of the show staring and gesticulating in the direction of Louise's low-cut top. Despite the understandable distraction, and to my complete surprise, Rick still recognised me - bearing in mind I was now twenty years older and a foot-and-a-half taller than that initial meeting. It was a brilliant night and, due to personal circumstances, we were unable to see Quo again until last Friday's show in Liverpool. We presumed, like everyone else, that we'd be seeing Rick again in the future but sadly that is not to be, something which still hasn't truly processed yet.
In the Quo community, we tend to keep ourselves to ourselves. We don't bother with message boards and we can't afford to go to every show on a tour or buy every format of each new release. That Cavern Club show was the first time in thirty years of being a Quo fan that we had ever been amongst so many like-minded people outside of a headline gig. There are Quo fans who have been around longer than us, wear more denim, have more patches, or have tattoos of Alan Lancaster's moustache on their left buttock. But our dedication to Quo is long-standing and we have always tried to use our little corner of the internet to champion the band wherever possible.
As a tribute to Rick, we have compiled a list of all of our Quo content below, offering a chance to look back through years of music video captures, magazine scans and even our personal photos from that memorable 2010 concert in Cardiff. In addition, there are articles looking at
our love of all things Quo
and a
light-hearted look at the band's album covers
.
As we remember Rick, our thoughts are with his family and all members of Status Quo, past and present.
Photoshoots
Status Quo - Photoshoot & Interview - Maxim (2000)
Live Performance Shots
Status Quo - Quid Pro Quo Tour - Cardiff International Arena - December 10th, 2010 - Live Performance Shots
Screen Captures
Status Quo - Technicolour Dreams - Screen Captures
Status Quo - Down The Dustpipe - Screen Captures
Status Quo - Tune To The Music - Screen Captures
Status Quo - Paper Plane - Screen Captures
Status Quo - Roll Over Lay Down - Screen Captures
Status Quo - Rain - Screen Captures
Status Quo - Mystery Song - Screen Captures
Status Quo - Rockin' All Over The World - Screen Captures
Status Quo - Someone Show Me Home - Screen Captures
Status Quo - Let Me Fly - Screen Captures
Status Quo - Whatever You Want - Screen Captures
Status Quo - Lies - VHS Screen Captures
Status Quo - Don't Drive My Car - Screen Captures
Status Quo - Something 'Bout You Baby I Like - Screen Captures
Status Quo - Dear John - VHS Screen Captures
Status Quo - Ol' Rag Blues - Screen Captures
Status Quo - A Mess Of Blues - Screen Captures
Status Quo - Marguerita Time - VHS Screen Captures
Status Quo - Going Down Town Tonight - VHS Screen Captures
Status Quo - The Wanderer - Screen Captures
Status Quo - Band Aid - Do They Know It's Christmas? - Artwork & Screen Captures
Status Quo - Band Aid - Do They Know It's Christmas? - Top Of The Pops - Christmas 1984 - Screen Captures
Status Quo - Rollin' Home - Screen Captures
Status Quo - In The Army Now - Screen Captures
Status Quo - Dreamin' - VHS Screen Captures
Status Quo - Running All Over The World - Screen Captures
Status Quo - Burning Bridges - Screen Captures
Status Quo - Can't Give You More - Screen Captures
Status Quo - I Didn't Mean It - Screen Captures
Status Quo - Sherri Don't Fail Me Now - Screen Captures
Status Quo - Restless - Screen Captures
Status Quo - When You Walk In The Room - Screen Captures
Status Quo - The Way It Goes - Screen Captures
Status Quo - Jam Side Down - Screen Captures
Status Quo - You'll Come 'Round - Screen Captures
Status Quo - Thinking Of You
Status Quo - The Party Ain't Over Yet - Screen Captures
Status Quo - Beginning Of The End - Screen Captures
Status Quo - It's Christmas Time - Screen Captures
Status Quo - In The Army Now 2010 - Screen Captures
Status Quo - Rock 'n' Roll 'n' You - Screen Captures
Status Quo - Two Way Traffic - Screen Captures
Status Quo - Bula Quo! Trailer - Screen Captures
Status Quo - Bula Bula Quo - Screen Captures
Status Quo - Looking Out For Caroline - Screen Captures
Status Quo - Go Go Go - Screen Captures
Related Pages
Scooter Vs Status Quo - Jump That Rock (Whatever You Want) - Screen Captures