Ever since
our review
of Mind Games / Argus Press Software's 1985 ZX Spectrum adaptation of Paul McCartney's Give My Regards To Broad Street film, we have been fascinated by the fact that the game was years ahead of its time. In case you missed it, the aim of Broad Street was to guide Paul McCartney around the London Underground system, trying to find his friends and band members in a desperate attempt to remember the tune to No More Lonely Nights. To help in his quest, Macca armed himself with an Oyster Card-style reader which gave him slightly dodgy access to the day-to-day movements of his acquaintances. This was all very pie-in-the-sky back in 1985, but after registering our Oyster Cards following our last visit to London in October 2015, we realised that (had he been so inclined) Paul McCartney could have used his little device to discover exactly where we had traipsed that day. In turn, this gave us the idea to recreate the Broad Street playthrough during our next visit to London.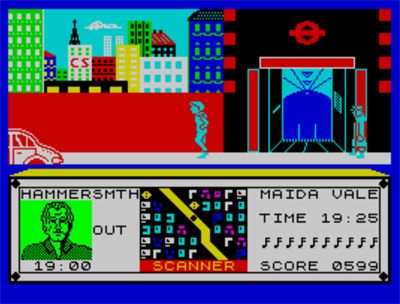 As luck would have it, logistics determined that we had a spare day in London before returning to Liverpool following our trip to Cardiff for the Welsh Open Snooker in February 2017. After re-acquainting ourselves with the game just before we left, we were all prepared for our first video game-inspired tour of London since we fell in love with Metropolis Street Racer in 2000.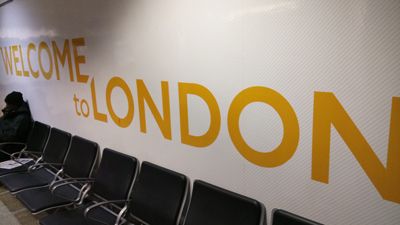 Technically the game begins at Abbey Road Studios, but knowing that we'd have to be back there later for the grand finale, we used a little license and started from Victoria Coach Station instead, having rolled into town on the National Express just before 6am on a rainy Thursday morning. Jumping on the District Line from Victoria Underground, we found ourselves at West Kensington around fifteen minutes later.
We hadn't been through West Kensington since we stayed with a friend in Richmond during Morrissey's UK tour in November 1999. Back then, we found ourselves more excited than necessary by the fact that it was located on an overground section of the network. We must admit that we still felt the same feelings of glee when we left the tunnel system, even though it was pitch black darkness and we couldn't see a thing.
In the Broad Street game, you're supposed to meet Ringo Starr at West Kensington. It's one of the trickier segments, as Rath's goons are chasing you around and have a terrible habit of crashing into you at the junction near the station. There were no such problems on our visit, the roads were dead and the only people around were two girls on the bus stop who were clearly wondering why we were taking pictures of an out-of-the-way station so early in the morning. Unsurprisingly there was no sign of Ringo Starr in any direction either, not even the faint smell of beans and kale to hint that he had passed through.
As we re-entered the station after a couple of minutes outside, a bemused but helpful member of staff asked if we required any assistance. We did toy with the idea of asking if he could hum the first few bars of No More Lonely Nights, but we didn't wish to arouse suspicion so early in the day when the fun had only just started. Politely declining, we made our way to the platform for our next destination.
Taking the train back to Earl's Court, we then changed to the Piccadilly Line for Covent Garden. Admiring the lovely station tiling on the way out, we exited once again into darkness. Even in the rain, the old-style red brick station looked gorgeous and a couple of old-style carts outside made us feel like we were re-creating Assassin's Creed Syndicate rather than Give My Regards To Broad Street, but it all added to that unique London feel. In the game, you're looking for Linda (maybe that's where Hue & Cry got the idea for their song) and we were inclined to say that there was not a sausage to be found on this occasion. But the Tesco Metro around the corner did in fact stock the entire McCartney range in their freezer, so a small victory!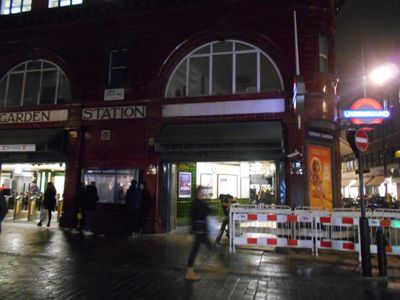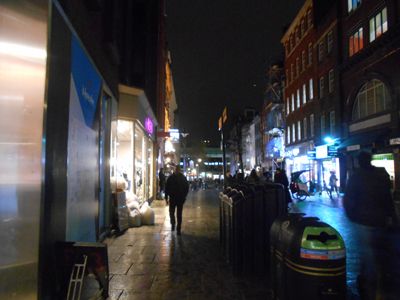 Having stopped for a bit of breakfast in nearby Leicester Square, coo-ing at the new Lego Shop and being completely shocked by the fact that they had turned out all the advertising lights on Piccadilly Circus (that's our favourite bit of London!), it was now daylight. Soon though, we were back into the darkness of the Bakerloo Line as we made our way to Elephant & Castle.
Elephant, along with Cockfosters, is one of those station names that always used to amuse on childhood visits to London (and, let's face it, the latter still does). This was our first visit to Elephant and gave us a chance to spend a bit longer on the Bakerloo Line, which feels like you've gone back in time due to the age of the rolling stock. We remember arriving back in the West End following Paul Weller's Victoria Park show in 1998, when thousands of fans started an impromptu rendition of Down In The Tube Station At Midnight. One wag joked that the train was probably new when that single had been released, and twenty years on, we did wonder if it could have been the same one again. As far as we're concerned, it's things like that which provide the consistency of London amongst all the modern change. Ordinarily, we'd have said that the lights of Piccadilly Circus provide the same service, but not so much this time, eh? We're not bitter, honest.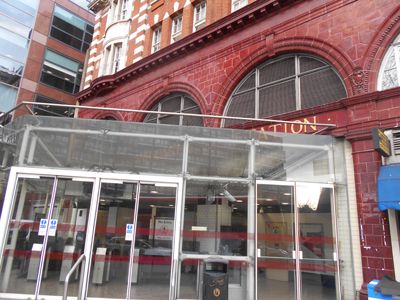 Elephant is another old-style red-bricker, our favourite kind of Underground Station. In our eyes, they've slightly spoilt the frontage by erecting a metal and perspex box on the outside, but these are things that people want these days, we suppose. The whole area is seemingly in a period of redevelopment, with some impressive skyscrapers popping up. We're sure that it's a lot different to the station that Paul McCartney would have lurked outside in the hope of bumping into Sandra, and like the shoulder pads worn by that character, those days are now consigned to the past.
Staying on the Bakerloo Line, we headed up to Regent's Park, one of the more boring subway-style stations on the network, but we'll give them kudos for the lovely green tiling on the platform. We hadn't been here since a Sixth Form trip to the Open Air Theatre in 1997, when we made a discreet exit with a group of friends to go drinking in a pub in Soho. We had big plans to indulge in the full experience of Soho with a trip to the Raymond Revue Bar, but quickly realised that our school uniforms were probably not the best first impression to make on the doormen, even though most of the dancing girls inside were probably wearing similar attire. On this occasion, no such shenanigans. Raymond isn't there anymore, for a start.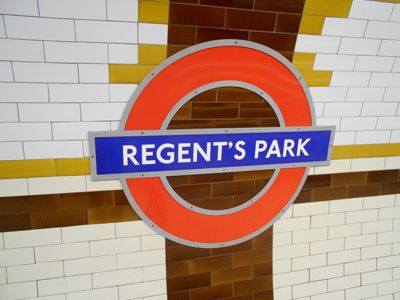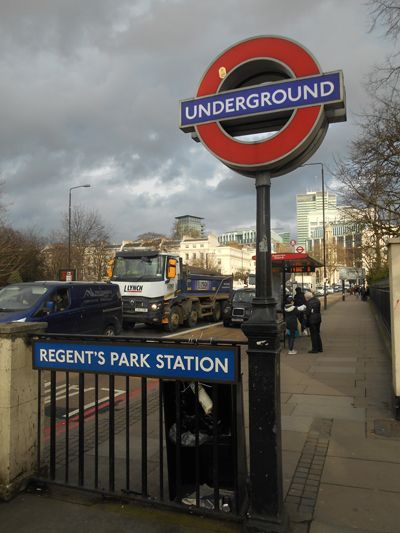 In the game, you're supposed to meet Barbara at Regent's Park. Instead we quite literally bumped into Radio One's Nick Grimshaw, no doubt on his way to BBC Radio headquarters down the road. Having regained his balance, thereby avoiding falling backwards down the stairs, he looked at us with the same look of confusion that was becoming the theme of the day and went on his merry, quiffed way. It was at this point that we decided to stop for lunch down the line at Charing Cross, where we bought a McDonald's (vegetarian, of course) and took it to Trafalgar Square. It's always a good spot to watch the world go by, but on this occasion we were also lucky enough to give a high-five to a dancing Pikachu. Even he looked confused.
Our next stop was Holland Park, accessed via the Northern and Central Lines from our lunchtime destination. The red Central Line is our least favourite section of the Underground as it's always so hot and overwhelming. Thankfully, it's not as bad as the old days when people also used to smoke on the escalators. To give ourselves something to look forward to, we took the train a bit further along than necessary in order to get off at White City to visit the old BBC Television Centre. Nothing to do with the game, but Paul McCartney must have been in there on more than one occasion, right? We don't like the word iconic, but it's the only thing that comes close to describing a building that became such a part of our lives growing up in front of the telly. Having spent ten minutes staring at the building, pointing at the exact point where Status Quo kicked off Rock Till You Drop on Going Live (as a little tribute to Rick Parfitt) we were soon on our way to Holland Park.
The first thing you notice when you step out of Holland Park station is the overwhelming aura of wealth. For a couple who grew up on 1950s estates and are currently the proud owners of a modest Victorian terrace near the Docks, it's something else to see a road full of multi-million pound mansions in the middle of a leafy area inhabited by the rich and famous. The station itself is very basic, you could easily walk past it on the pavement above and, at the time we visited at least, the platforms were like ghost stations with barely a soul present and no posters on the wall. Chances of bumping into any game characters were slim then, particularly given that it's the late George Martin who should have been here. However, it's one of those fun stations where you get to cross over the track and see the trains below, which is never a waste of time.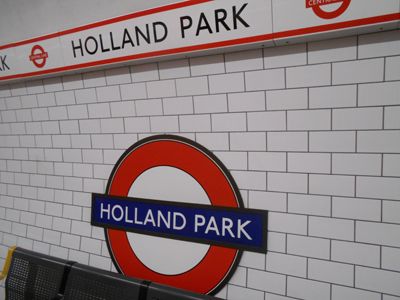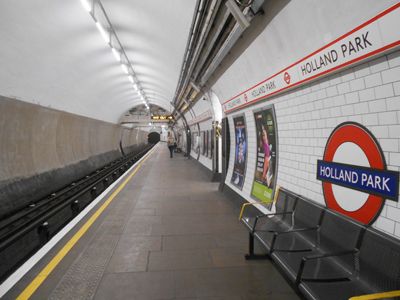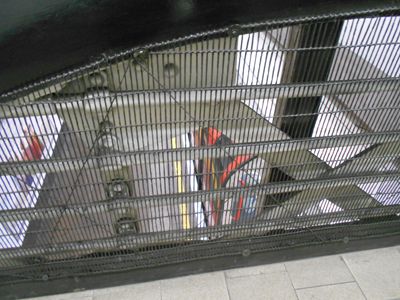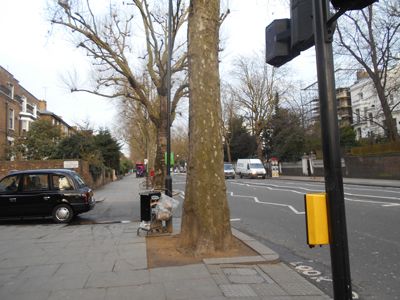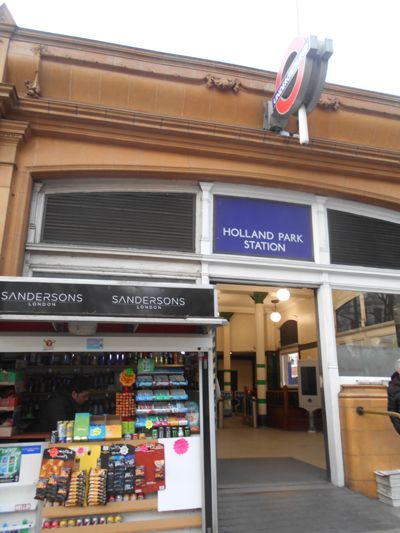 Our next destination was a quick journey up the line to Notting Hill Gate, the location of Harry and his impressively animated long coat in the game. Another subway-style affair on a busy main road, it's a pretty unremarkable location. Admittedly, it's probably a bit more exciting when the carnival is on, but this was mid-February and everybody looked freezing. Just when we thought all hope was lost in our quest to find something,
anything
, game-related, we found success - a man in a long coat descending the stairs! Unfortunately, his name was not Harry, it was Bill, but he did seem pleased of the attention on an otherwise unremarkable day.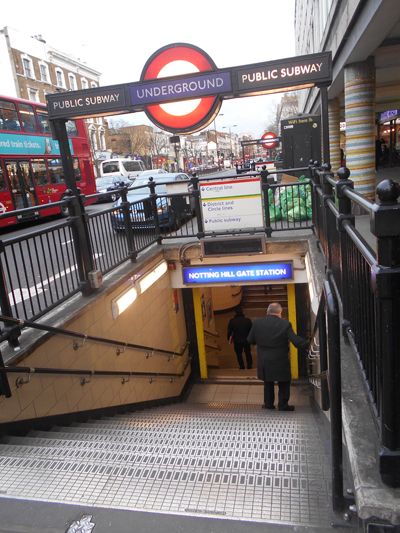 In line with the game, our penultimate stop was Abbey Road Studios, accessed from St. John's Wood Underground Station on the Jubilee Line after a change off the Central (thank goodness!) at Bond Street. The station is also the meeting place for the final character in the game, Steve. Always a magical place, the walk to the studio even takes you past Lord's Cricket Ground and, even more excitingly, one of Paul McCartney's current residences. Just our luck, even he wasn't in on the day of our visit. Either that, or he was tracking our progress on his device and had elected to hide behind the curtains. Undeterred, we were soon outside the studio gates amongst the usual crowd of people navigating the famous zebra crossing. It's always a genuinely exciting feeling being outside another (we'll say it) iconic location, whether you're a Beatles fan like us or not.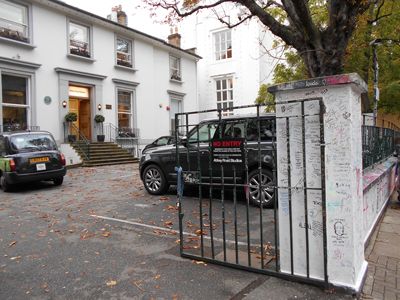 In the game, there's a really fiddly mixing desk sequence that takes place at Abbey Road which is even more confusing than that oil puzzle at the petrol station in Resident Evil 3. Our feet were aching by this point, so rather than waste energy trying to force our way past security, we simply stood outside swaying slightly whilst whistling No More Lonely Nights. There was a Japanese man trying to climb a tree at this point, so our behaviour went largely unnoticed amongst the tourists and we were able to make our escape back to London in time for tea.
That would have been that, but it would have been wrong of us to go to all that trouble and not visit the location of the titular Broad Street, which just happens to be right next to Liverpool Street Station, the namesake of our adopted city and Paul McCartney's actual hometown, of course. We had to make do with Old Broad Street, as the original station is long-gone and redeveloped, but as we sat eating Ploughman's sandwiches in the Liverpool Street concourse (having taken half an hour to find a Boots that turned out to be within a few steps), we were filled with a sense of satisfaction that we had taken the opportunity to take a rare real-life tour of one of our favourite games and, of course, given our regards to Broad Street. Plus, it was only marginally more hard work than playing the game itself!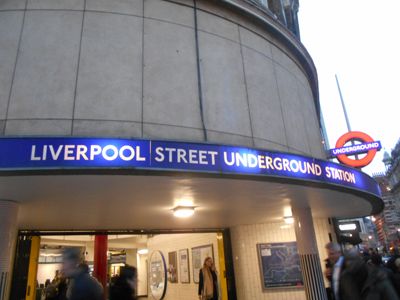 High quality versions of all our photographs in the blog: