Pictures from our visit to London in February 2017. The trip was something of an accident that only came about because we needed to get home to Cardiff for the
Welsh Open Snooker
by a certain time, but there was only one badly-timed direct coach from Liverpool. As such, we used it as an excuse to have a day in London on the way back up North.
On the way down, we had a couple of hours to kill in London before our coach to Cardiff. It may have only been six o'clock in the morning, but that has never stopped us fitting in some sight-seeing. So that's how we found ourselves down at the Chelsea Embankment on a freezing cold, dark February morning. The London skyline looked particularly beautiful against the frozen sky from Chelsea Bridge, but unfortunately the other bridges were not lit up as we had hoped, so we were not able to see our favourite (Albert Bridge) in all of its glory.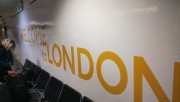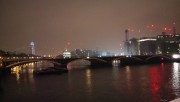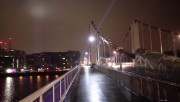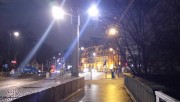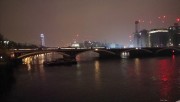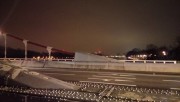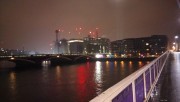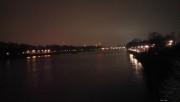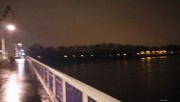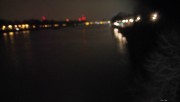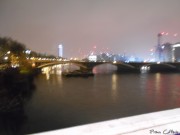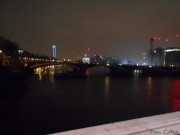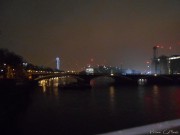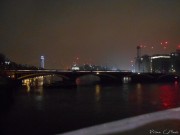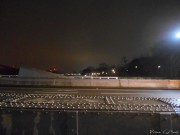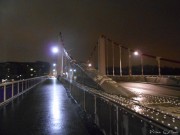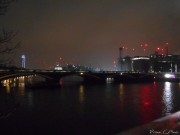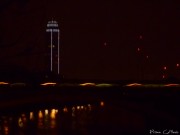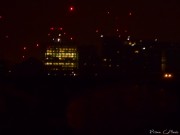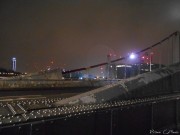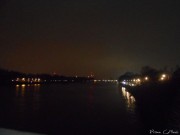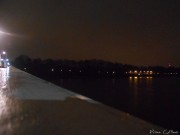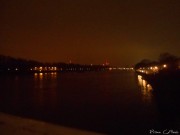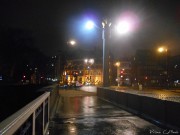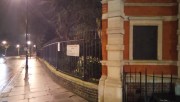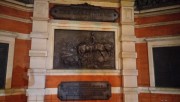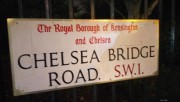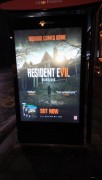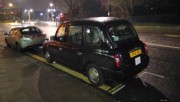 Heading back up to Victoria Coach Station, it was still only seven o'clock. So we took a walk up to Westminster to see the Cathedral. Unfortunately, there were many roadworks and diversions in place (a theme which would continue throughout our main visit) so we had to increase our pace. When we got to Westminster Cathedral, the entire area had been cordoned off due to a Police incident so we had to admire it from afar before heading back for our coach to Cardiff.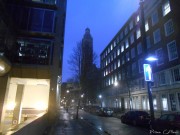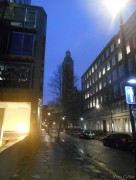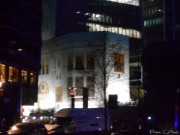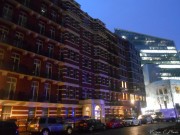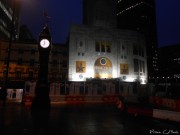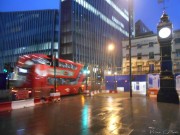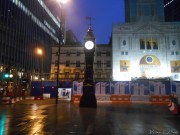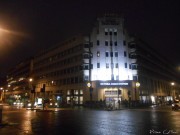 Four days later, once again at 6am, we were back. Considering the number of late nights due to the Snooker, plus overnight travelling, we were surprisingly alert and ready to take on the list of places that we had carefully planned the week before. We began by taking an Underground trip up to Stratford where, amongst other things, we wanted to see the Olympic Stadium for the first time.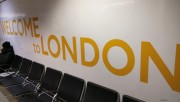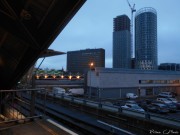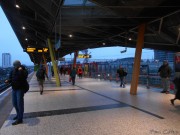 If you can ignore the construction, Stratford station is very shiny, grand and modern. If you can't ignore the construction, it's like arriving at that half-finished Lego build that you kept meaning to go back to as a kid, but constantly kept getting distracted by the lingerie section of the John England catalogue. However, after much confusion and two-and-a-half circuits of the station, we soon found ourselves on the correct platform for the Docklands Light Railway which would take us even closer to the stadium at Pudding Mill Lane.
It was our first experience of the DLR, but having done copious amounts of research beforehand, we were prepared for the driverless experience. Being so early in the morning, we had the pick of the seats and plonked ourselves down at the front. We hadn't been this excited since securing the front seats at the top of the double-decker Tesco Free Bus from Penarth twenty-odd years previously. The short trip to Pudding Mill Lane was a novelty, like being on a Ghost Train ("Ooh-Argh!", as Nobby The Sheep would say) or roller-coaster, thankfully without going upside-down. It was very impressive to see the Olympic Stadium and that red wire tower thing looming ever closer as we approached the station and, at that point at least, we were pleased that we had made the effort to see it.
Taking the short walk through more roadworks, constuction and a subway illuminated by rainbow lights, it was quite the experience to climb the steps up a small hill and find ourselves right outside the famous stadium. These days it is decorated with West Ham colours, but in our minds we could still see it in all its Olympic glory during that special couple of weeks in 2012. Obviously, we tried to ignore the memory of what we consider to be the worst Opening Ceremony in some time, despite what everybody else desperately tries to say to reassure themselves.
In 2012, we were severely agoraphobic and barely left the house. We viewed the world through the television and computer screens, and the 2012 Olympics (along with the Audi Piano game in PlayStation Home) got us through a very tough time. To be standing outside the venue where it all happened just a few years later was one of those moments where we looked at each other and asked, "how did we get here?"
We weren't just referring to the fact that the road planners for the area seemed to have been inspired by a plate of spaghetti.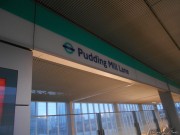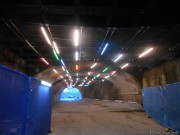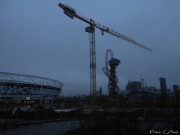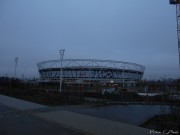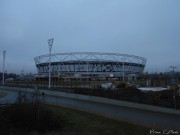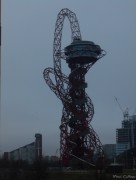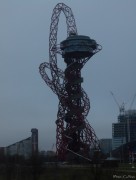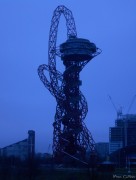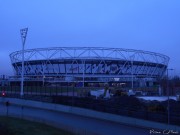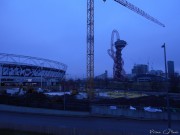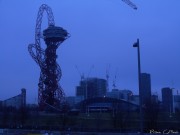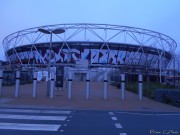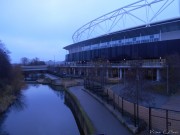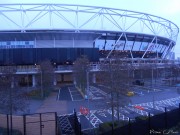 In all seriousness, it certainly is an impressive stadium. The problem is that when everybody went home after the Olympics, the area just seemed to get chucked in the back of a cupboard, only to come out for special occasions. The rest of the area is a barren wasteland of construction and big ideas, which we're sure will all turn into something eventually. But unless there's an event going on, there are only so many photos you can take before you start looking around for something else to do.
Thankfully, our research had informed us that the old Big Breakfast house was nearby. It's a location that we always wanted to visit, having been avid viewers of the show growing up. From our location outside the stadium, we had two options; a long straight pathway, not unlike the stretch of Cardiff Bay Barrage between the sailing centre and Doctor Who Experience, or the aforementioned spaghetti road that twists its way around the stadium. Google Maps suggested the latter, so we trusted it and were soon trudging up a hill towards a bridge. As we got closer, we could see a lot of construction going on in the distance and soon saw a sign saying "Footpath Closed." It was all looking a bit like that unfinished bridge from the end of Blues Brothers for our liking, but we could at least get a small glimpse of the Big Breakfast house's chimney through the jungle of trees that surrounded it in the near distance.
At this point, we were all ready to give up. Our plan was to walk to Victoria Park, which we last visited in 1998 for a Paul Weller concert. However, we were relying on being able to walk along the spaghetti road to get there. We really didn't want to abandon plans so early in the day, and were wondering why half a dozen people were heading down that long straight path. Google Maps said it was a dead end, so this intrigued us even more. With nothing better to do, we started walking and soon found ourselves in the exact spot we expected to be on the other route - although how we would have got there is anyone's guess. However, we were thrilled to be looking at the Big Breakfast house. It's like a 1990s time capsule at the side of a canal, it hasn't changed a bit except it now stands in eerie silence instead of the chaos that once ensued inside. A bit like being at school on parent's evening, when the classrooms always felt different after hours. But there was that canal path where they used to do the odd feature - pretty sure somebody fell in once - and if you look closely, you can just see that bit of garden where Shed Seven performed Bully Boy. Most excitingly, the sign beneath our feet said Old Ford Lock, the legendary Big Breakfast address. Success at last!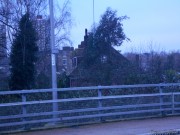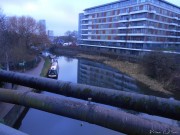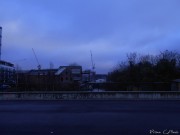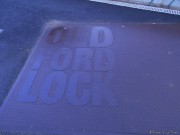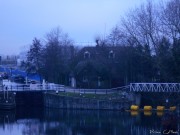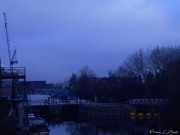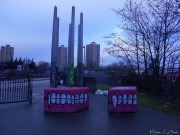 Finally for this part of our day, we walked another ten minutes to Victoria Park. Last time we were here it was a hive of activity, a huge concert was taking place with stalls and bars dotted around on the hottest day of 1998. This time, it was the coldest day of 2017 and there was nobody but us and a couple of dog walkers. Just a normal recreation ground, it reminded us a lot of Penarth Athletic Field, even down to the groundsman's cottage near the entrance gate. It was nice to be back, for no other reason than it gave us a chance to have a much needed rest before heading back to Pudding Mill Lane station.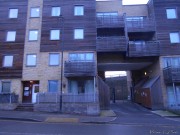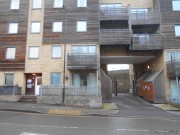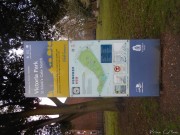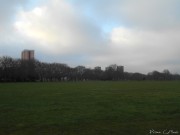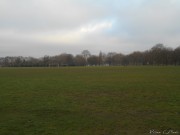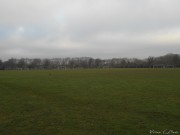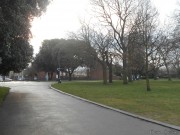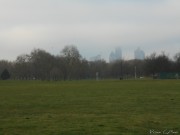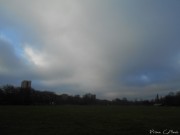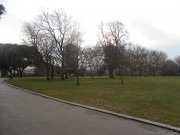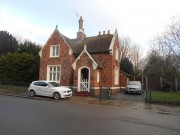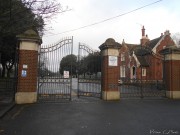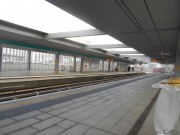 Staying on the DLR, our next stop was Cutty Sark. Despite having been to London on numerous occasions over the years, and having watched the London Marathon even more, we had never been to see the famous landmark before. It still wasn't plain sailing (arf!), as we needlessly got off the train at Canary Wharf when we could have gone straight through, then when we eventually got to Cutty Sark, the Oyster Card readers weren't displaying properly so we couldn't work out how much we had been charged. But all's well that ends well, and Cutty Sark was certainly a magnificent sight and worth braving the cold, early morning riverside air. It was then time for one more DLR journey back to Canary Wharf (our first visit since 2001, when we bought Pokemon Gold at the GAME in the shopping centre), where we then changed to the traditional Underground for the rest of the day. Our overall impression of the area served by the DLR is that it's great if you need to be there, but not particularly worth going out of your way just for the novelty!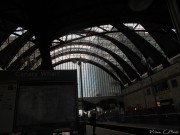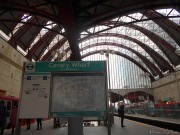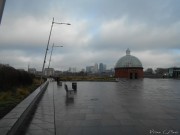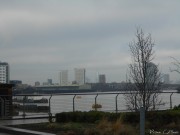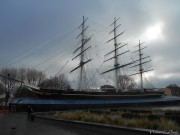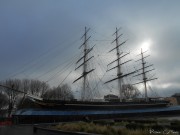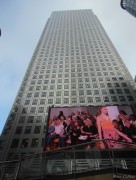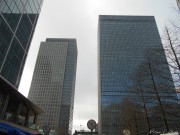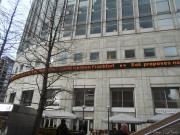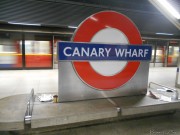 Our next destination was The O2 Arena, another first for us. It's a truly awesome beast when you're standing right in front of it, and we were pleased to discover that you could go inside for free and enjoy many of the facilities - a bit like
Cardiff's Red Dragon Centre
, we suppose.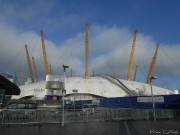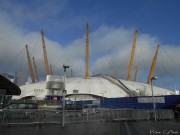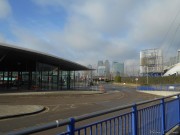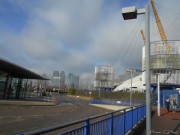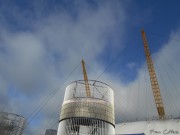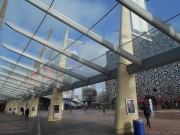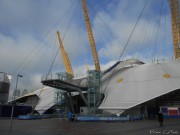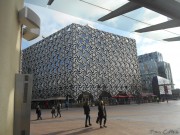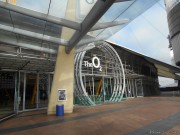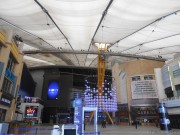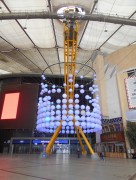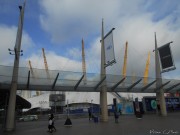 We stayed for nearly an hour, enjoying a rest and watching the world go by, before finally heading back to Westminster on the Underground for the start of our day in London "proper." And it was still only eleven o'clock in the morning!
From Westminster, we walked the familiar tourist route from Big Ben, past the Cenotaph and Downing Street (where there was some sort of security incident at the time of our passing) and on to Horse Guard's Parade. We didn't get chance to see it during our last visit in
October 2015
, and had never bothered with it in all the years we had been to London. As animal lovers, we were thrilled how close you could get to the horses and Louise even had a stroke of one, who returned the favour by nuzzling her chest! Unfortunately, we had missed the main changing of the guard earlier that morning, but by the time we had walked across to St. James' Park and back, we were perfectly timed for a smaller ceremony which involved lots of shouting and the horses parading extremely close to us.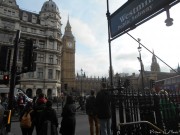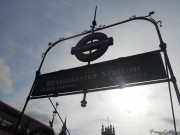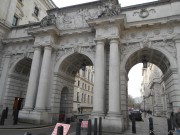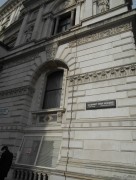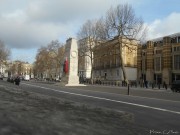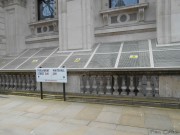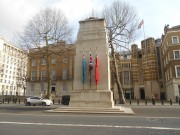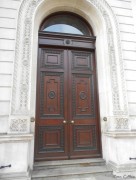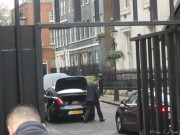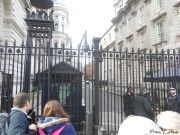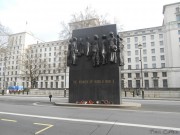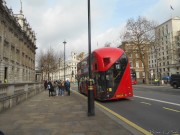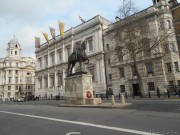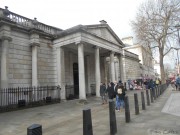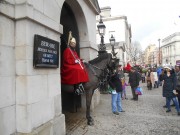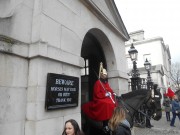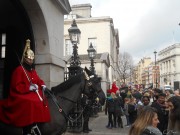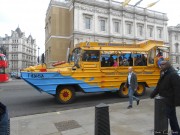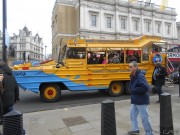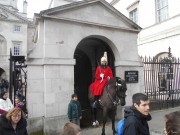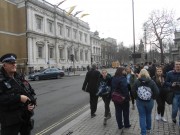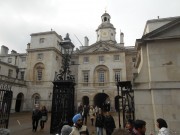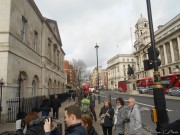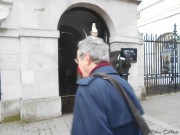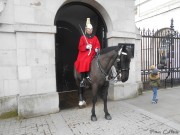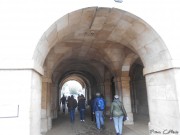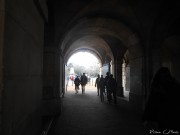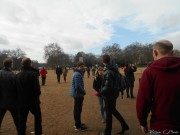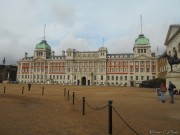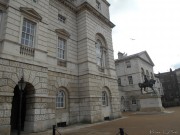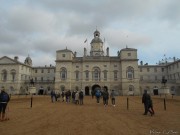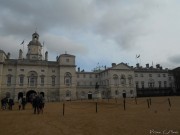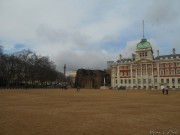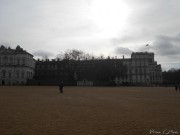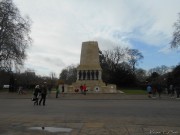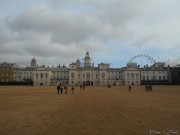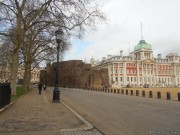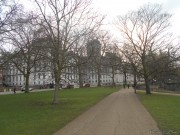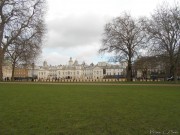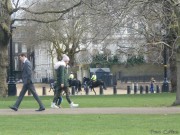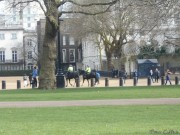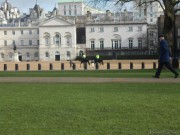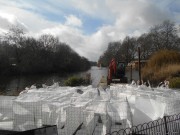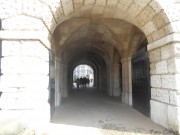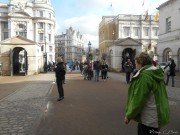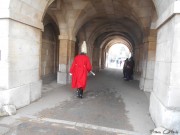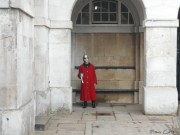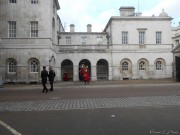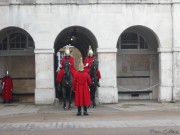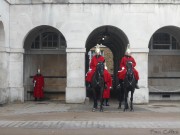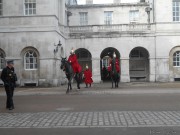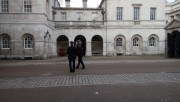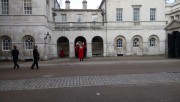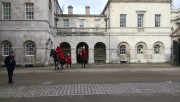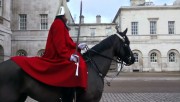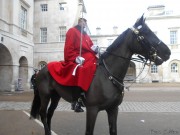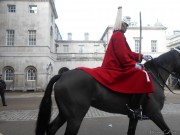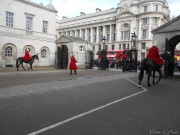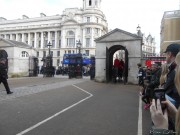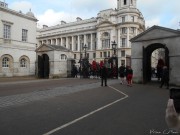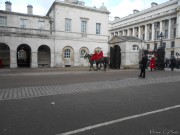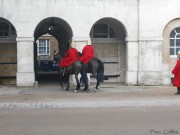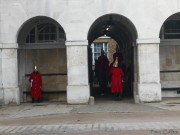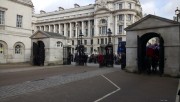 We stopped for lunch at Trafalgar Square, where we watched the world go by once again, as well as high-fiving a dancing Pikachu. We then spent most of the afternoon zooming around on the Underground for the frivolous purposes of our
Give My Regards To Broad Street
blog, but did have time for a stop-off at the old BBC Television Centre in White City before it became too dark to see it. We don't like the word iconic, but it's the only thing that comes close to describing a building that became such a part of our lives growing up in front of the telly. Having spent ten minutes staring at the building, pointing at the exact point where Status Quo kicked off Rock Till You Drop on Going Live (as a little tribute to Rick Parfitt) we were soon on our way, plotting how we were going to save enough money to able to afford one of the apartments in the development before they're finished.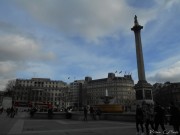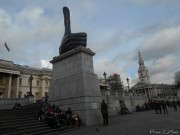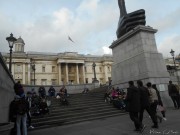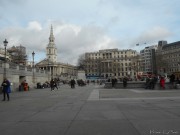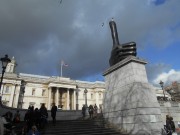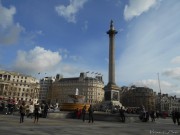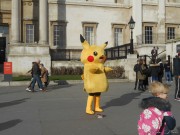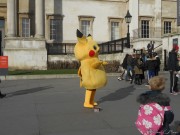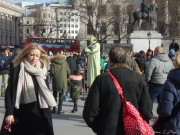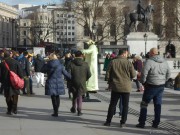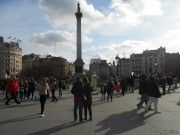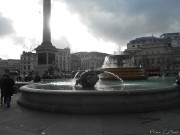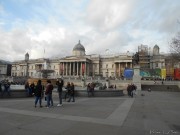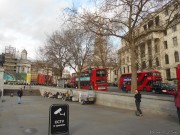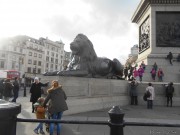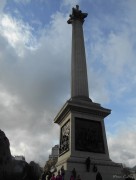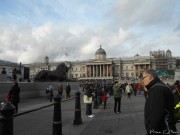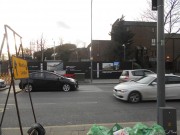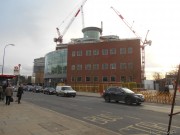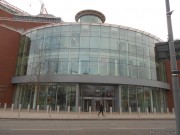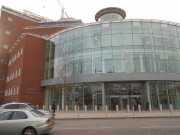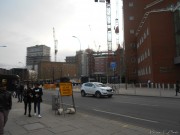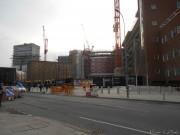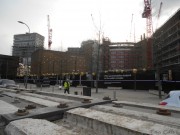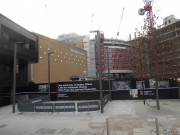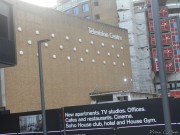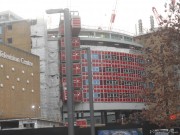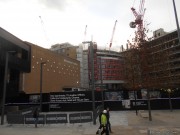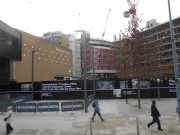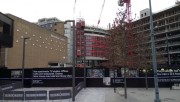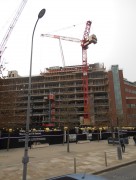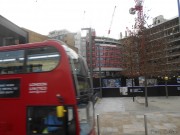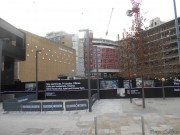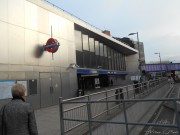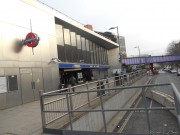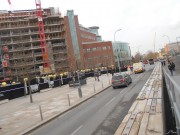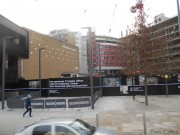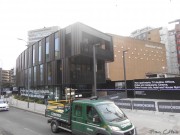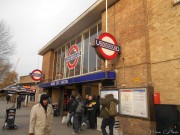 As in 2015, it was dark by the time we got to Tower Bridge - we will see it in the daylight one day - but it was as beautiful as ever, plus we were able to get even closer than last time as the Tower Of London was still open. We also made sure to pay particular attention to HMS Belfast, as we love a
warship
but somehow managed to completely miss it when we last visited. Perhaps stealth mode had been enabled.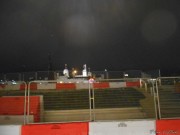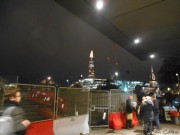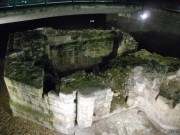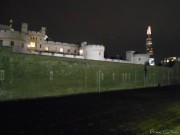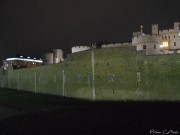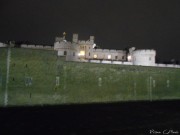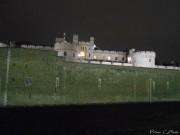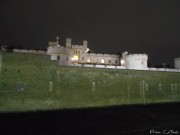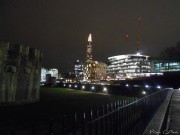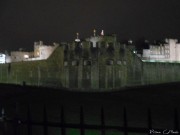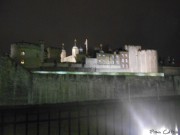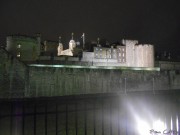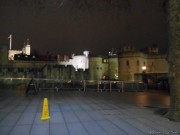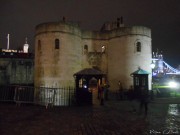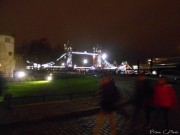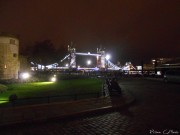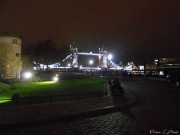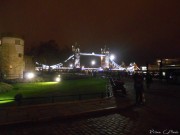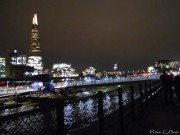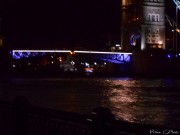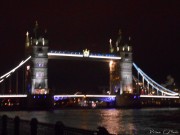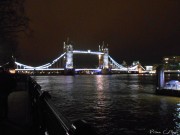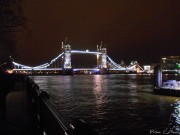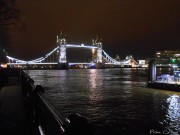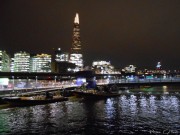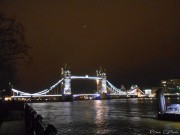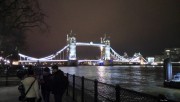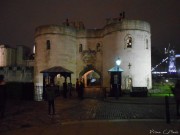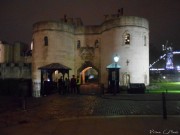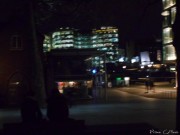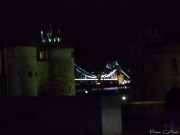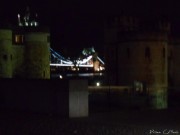 Next stop was Leicester Square, where we were keen to visit the new Lego Shop which had been featured in a documentary over Christmas. It was just before ten o'clock in the evening but there was still a huge queue to get inside. Thankfully, we didn't want to buy anything and just wanted to see the huge builds like Big Ben and William Shakespeare, which they helpfully placed in all the big windows. We feel that Lego has become a bit big for its own boots in recent years, and a bit too cool, so it's easy to take for granted just how amazing it can be. The builds were brilliant, and Big Ben was almost as good as the real thing!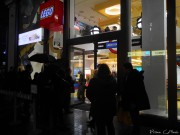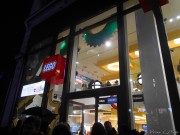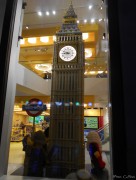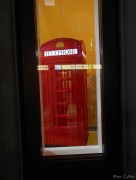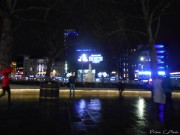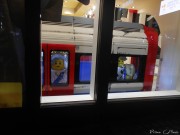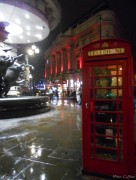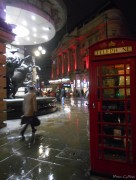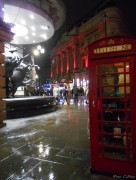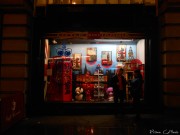 A short walk up to Piccadilly Circus was an enormous disappointment, as they had turned out the lights on the famous advertising screens - that's our favourite bit of London! - so we quickly headed downstairs for the Tube to Westminster, where Big Ben and the London Eye were looking beautiful all lit-up in the darkness. Big Ben even chimed the quarter-hour, which was a surprise considering it was supposed to have been silenced for repairs. Our final destination was Namco Funscape just across Westminster Bridge. It was great to see all the arcade machines in action, even though it wasn't really much different to our visit to the Red Dragon Centre in Cardiff the night before. They do have a huge Pac-Man cabinet there, which is worth the (free) admission alone and as video game lovers, you can never see the Namco logo too many times.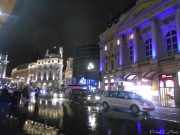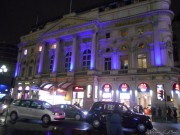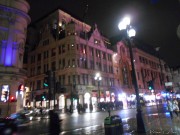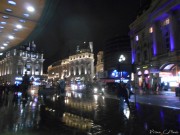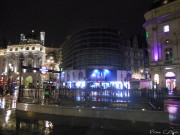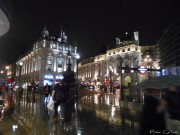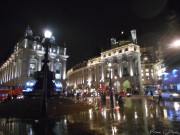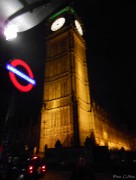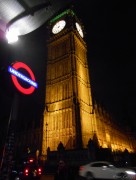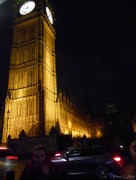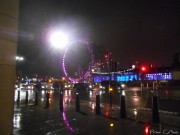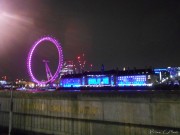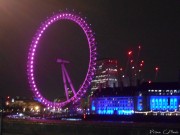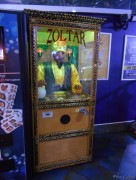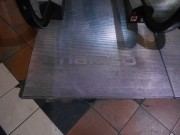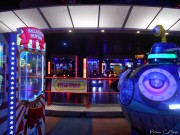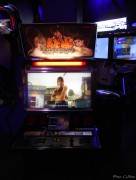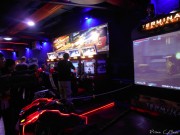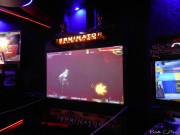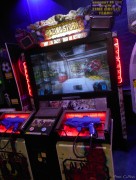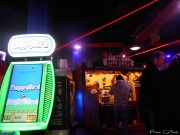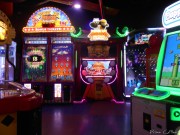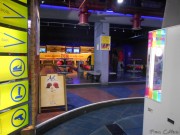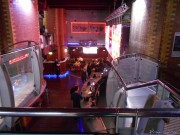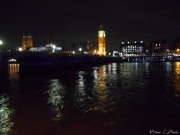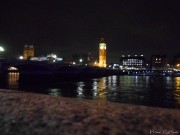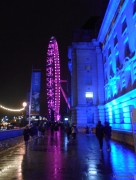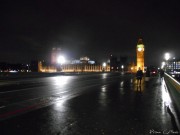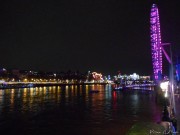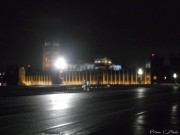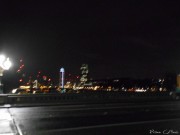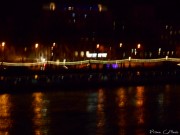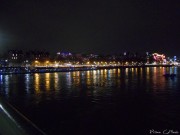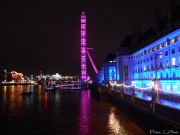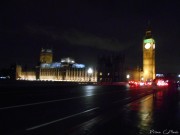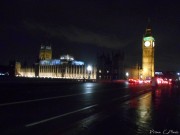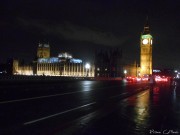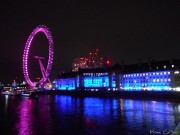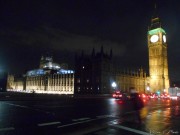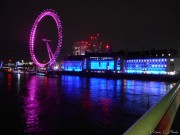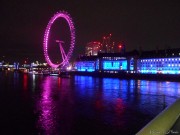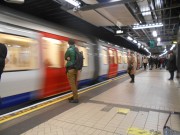 By now, after five days of non-stop walking and late nights, we were absolutely shattered and our feet were aching. We hobbled back to Westminster Underground and were soon back at Victoria, ready for our overnight coach back to Liverpool. It had been another brilliant day in London, despite the fact that we had spent a lot of time walking through large-scale building sites, places of disrepair and roadworks. We felt like we should be wearing T-shirts saying "We went to London and it was shut" at times, but it's such a great city that you can never stay disappointed for long. Not sure we'll ever venture down to the Docklands again unless we have a really good reason, but we're really glad that we made the effort to see Television Centre before it gets completely redeveloped. Plus, we stroked a horse - that's got to be a good day!