Wandering around Youtube a few weeks ago, we had a pleasant surprise when we happened across the complete footage from
Paul Weller's 1998 concert
at London's Victoria Park. We were big fans of all things Weller in the 1990s - a fact that caused a bit of embarrassment when
we met Mick Talbot
at a Gene gig in Cardiff - so when we saw the advertisement in the NME, we jumped at the chance to have a Summer's day in London in the company of our hero.
Unfortunately, Louise's parents wouldn't let her go away with two older boys for the weekend, apparently thinking that the prospect of seeing Paul Weller would send our hormones into overdrive. So it was just me and my best friend Mez who stood impatiently on the platform at Cardiff Central on a Friday afternoon, waiting for the InterCity to Paddington.
A few hours later, we were in London. We had all sorts of mischief planned for that first night, intending to head down to Soho for a bit of action at the Raymond Revue Bar and Madame JoJo's like any self-respecting eighteen-year-old. As it happens, we were so tired after an afternoon of sightseeing that we just ended up watching Fawlty Towers in the bar of the Regent's Palace Hotel before going to bed. We did get up to some mischief though, pushing the maid's trolley further and further down the corridor every time we heard her go into a room. Apparently, her loud tutting could be heard all the way down in reception and we're sure that she's never forgiven us.
Early next morning, we took the Tube to Bethnal Green, which our tickets informed us was the closest stop. With no Google Maps and barely anybody around at that time, we wandered aimlessly down dodgy-looking roads and canal paths until we eventually saw some greenery in the distance. At last, we had found Victoria Park and we were the first ones in the queue for the big event.
It was the hottest day of the year, a fact which they told us repeatedly over the PA system, and we tried our best to stay in the shade to avoid heatstroke, whilst still maintaining our place in the queue as the crowd became bigger. Eventually, they opened the makeshift gates into the temporary arena section of the park, and we ran as fast as we could to secure a place front and centre. We stayed there for the rest of the day, watching support acts such as an unknown Toploader, Weaver, The Hybirds, Ian Dury & The Blockheads, the obligatory Carleen Anderson and Finley Quaye, who went down terribly with the crowd and never really recovered from the experience. Rialto also played that afternoon and were a big success. We were therefore surprised when we saw them at Cardiff's Coal Exchange two months later and they were only playing to an audience of ten people - me, Louise, two boys from the Valleys and the members of support band Lodger, including Pearl Lowe. It was a brilliant day, helped by the copious amounts of water thrown over us by security and the pleasant company of a father and his daughter who made conversation with us between bands.
By the time Noel Gallagher arrived on stage to introduce Paul Weller, Mez had fallen asleep from heat exhaustion on the safety barrier and I had to poke him awake. From the opening bars of Into Tomorrow to the end of Broken Stones, it was a classic Weller performance. The only criticism, shared by everybody present, was that there was no encore and that Broken Stones had been a slightly underwhelming end to a great show. But it was soon clear after fifteen minutes of chanting that Paul was not coming back on to give it to us one more time, and everybody began making the retreat back to Bethnal Green Underground.
By the time we got to the station, they had closed the gates due to overcrowding and we had no option but to walk to Liverpool Street for the last Tube back to the West End. Hundreds of Weller fans, all wearing their lanyard-style programmes around their neck, crammed onto the platform at Liverpool Street and started singing Down In The Tube Station At Midnight, which added to the atmosphere. We eventually arrived back at Piccadilly Circus, where the passengers were still in full voice and continued singing out on to the street. It was a fitting end to the day and has always added to the memory of that weekend.
Just before Christmas 1998, Paul Weller released his Modern Classics compilation which featured a bonus CD of the Victoria Park concert on the limited edition version. It was lovely to have a souvenir of the show, but we were always disappointed that despite the presence of cameras at the concert, it was never officially released on video. That's the way it stayed until we discovered the video on Youtube recently, which finally allowed Louise to see the concert that she had so badly wanted to attend.
The memories came flooding back, and although I was aware that I was present at the concert and knew exactly where I was standing, it was still a shock to catch a clear shot of myself during many of the songs. Seeing my eighteen-year-old self almost twenty years later was an eerie experience. It was the week of my A-Level results and I was using the trip away as an excuse to take my mind off the apprehension. I was terribly self-conscious back then, had little confidence and had no idea of what lay ahead of me. Despite all this, I look remarkably carefree in the footage and it's really quite nice to see myself clearly having a good time.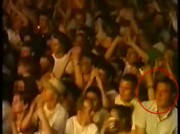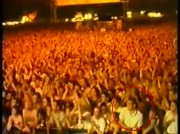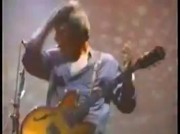 Back in the present, and with a
trip to London
planned the following week, we decided to pay a visit to Victoria Park for the first time since 1998. It gave Louise the chance to say that she had finally been to the location, and me a chance to revisit the site of such a memorable day. This time, we were able to take the Docklands Light Railway to Pudding Mill Lane and walk to Victoria Park past the Olympic Stadium and Big Breakfast house (if we had known it was so close, we would have visited back in 1998!)
My memory of the park was a busy space with thousands of people drinking and dancing. To see it in its normal state was quite a shock, as the park is just a typical recreation ground with the odd dog-walker passing through. But I was still able to pinpoint the exact location of the Weller show thanks to the tower blocks which had formed part of the landscape throughout the day. It was quite strange to be back, but well worth revisiting the past.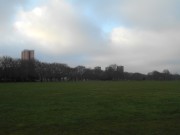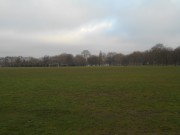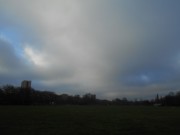 As we were going
back home to Cardiff
during the same week, our Victoria Park visit gave us the bug to visit other Weller-related sites.
I first saw Paul Weller at Cardiff International Arena on November 30th, 1997. It was a special date as it was the day after Louise and I started dating. Two weeks later we would be there together watching Oasis. But on this occasion, whilst Mez and I were doing our thing at the Heavy Soul tour, Louise was down at Hollywood Bowl in Cardiff Bay. It was easy for us to revisit this location, now known as the Motorpoint Arena, as it was the venue for our main reason for being in Cardiff, the
Welsh Open Snooker
!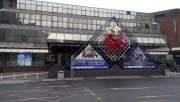 Next day, we took a trip down to Cardiff Bay itself, where we also had a wander around the Hollywood Bowl for old time's sake. As we walked around the various basins, we remembered one of Paul Weller's more obscure gigs in the city, when he played on a floating stage in May 1997 as part of a Radio One event to celebrate the centenary of Marconi's first transmission across the Bristol Channel.
As we had already booked our tickets for the November show, we didn't attend that concert in Cardiff's Scott Harbour, but we distinctly remember watching it on television and sharing everybody's confusion as to who thought it was a good idea to have the crowd separated from the stage by twenty feet of water. We had friends present who later confirmed that it had affected the atmosphere, but
watching it back again
recently, it didn't affect the quality of Paul Weller's performance.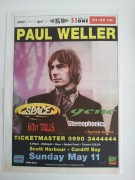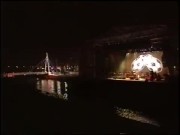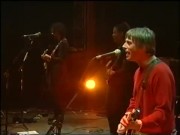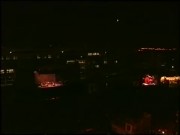 These days, the concert would not be possible as the Celestia apartment development now stands where the audience would have been. But other than that, the basin and distinctive bridge are unchanged and it is easy to see where the concert once took place. The organisers were ahead of their time really, as Cardiff Bay was not quite ready for an event like that back in 1997. These days, we imagine that they could do something similar on the Barrage or numerous open spaces in the area and it would make for quite an atmosphere, especially as transport links to the area are now much better.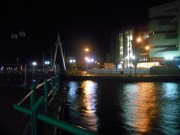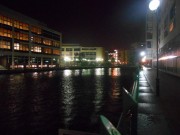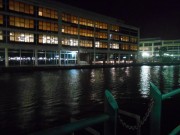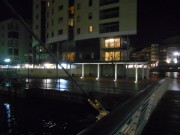 A week after the Victoria Park concert, my A-Level results came in as hoped and I was off to Cardiff University. To be honest, our interest in Paul Weller has never been as strong as it was back then and we have never seen him in concert since, even though we do still enjoy a lot of his output. But for the time in our lives that it represents, and indeed captured, we're thrilled that the music was part of us and shaped our memories. Also, despite the fact that we're not quite the die-hard fans anymore, it does still fill us with a little excitement that we now live five minutes away from a Stanley Road. My eighteen-year-old self would have appreciated that!