Having suffered from bouts of homesickness throughout 2016, we bought ourselves a Cardiff 2017 calendar for Christmas in order to ensure that our beloved hometown could be part of our everyday lives in Liverpool. Being the suckers for nostalgia that we are, we chose an Old Cardiff edition to bring back memories of Christmases past, when we would sit at the dinner table with my father leafing through a local history book. This would usually lead to numerous risque stories about Cardiff in the 1960s, or hour-long attempts to describe where something used to be, before he realised that the the thing he was talking about was either on a different street corner or had been demolished before we were born.
Our 2017 calendar keeps things much more simple, as it's full of famous landmarks which are (mostly) still standing today. It's actually quite eerie to see photos of sights which have been there throughout our lives, but taken a century before we were born. Having already booked a trip back home for the
Welsh Open Snooker
in February, we decided that we would set some time aside to take a walk down memory lane using our calendar as a guide. The results were quite surprising, showing how much Cardiff has changed without completely losing its heritage.
On most occasions, we were able to stand in exactly the same spot as the original photographer. Where people were in shot in the calendar photos, they were still there in the present day, showing that Cardiff residents of the past were not really that different to the ones walking around today. The romantic in us wondered if we could even have been looking at their ancestors. But that's the joy of local history, it makes you look at things that you know so well from a completely different perspective.
January - Pierhead Building, 1925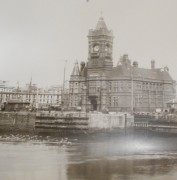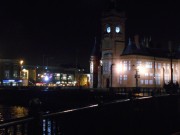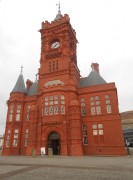 We arrived at Cardiff Bay in darkness, but even at night it is clear that despite all the redevelopment around it, the Pierhead Building remains the focal point of the area. When we first moved to the Penarth side of Cardiff Bay in July 2014, looking across the water to the Pierhead was all the incentive we needed to take a walk across the Barrage. That in itself would bring back memories, as we both had connections to Penarth Marina as children, and separately remember staring in awe at the grand Panache boat that used to be moored there.
I distinctly remember standing with my father at the roundabout outside the Custom House around 1990, when the Bay re-development was in its early stages. As we watched the boats come through the lock gates, we would look across the (then) open sea to Cardiff and he would say, "remember this, because by the time you're a man it won't be the same." We would then drive across to Butetown, usually to visit the "aeroplane wing" visitor centre, then stare back across to Penarth. Again, I was instructed to take it all in. I was probably quite flippant about it all as a ten-year-old, but I'm glad that I did as I was told because it's always the first memory that comes to mind when we stand at the waterside in front of the Pierhead. That grand building has seen it all, and is a reminder that the best kind of change is when the past is incorporated into it.
We went back down to the Bay a few days later to take a picture of the Pierhead in daylight. In terms of the calendar picture, the Mermaid Quay development is the only difference, but so much has changed around it that a person who worked on the docks in 1925 would probably not believe their eyes. We didn't have time to go inside on this occasion, but enjoyed many a pleasant walk around the rooms when we lived in Cardiff, so it's well worth the (free) entry.
February - South Side Of Cardiff Castle, c.1903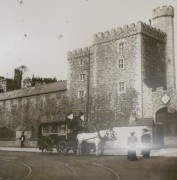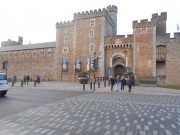 One of many examples where barely anything has changed except for fashion and technology. Gone are the Edwardian clothes and horse-drawn carriages, in are the jeans, backpacks and Renault Clios. Of course, on our last visit to Cardiff in
July 2016
, Aaron Ramsey had also climbed up the tower during the Wales Football Team Homecoming.
The main entrance of the Castle has been slightly altered, but apart from that you really wouldn't know that the two pictures had been taken 114 years apart. Of particular interest to us is the advertisement for Bryant & May matches on the side of the carriage. Not only was that my father's favoured brand of matches (doesn't everyone have a favoured brand of match?), but our new home in Merseyside is very close to the site of the old Bryant & May factory, with roads nearby even named after them.
March - St. Mary Street, 1893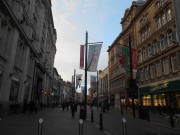 We had expected St. Mary Street to look quite different nearly 125 years later, as we regard it to be changed beyond recognition within our lifetime since it was pedestrianised. But it was quite obvious that we were standing in the same spot, looking down the same street with the Castle peeking out at the end. It's a bustling city scene in either era, and the entrance to Cardiff Market hasn't changed a bit. There were no grubby-faced urchins on this occasion, they didn't have Paddy Power back then and a Sainsbury's Local has taken over the bank, but it's an almost spooky reminder that for all the advances of time, daily life hasn't changed as much as it might seem.
April - University College, 1925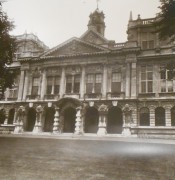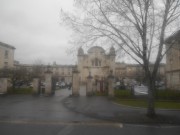 We both went to Cardiff University in the 1990s, and although we were mainly based in the Bute Building's Journalism department on King Edward VII Avenue, we have fond memories of visiting the main Park Place building for a discussion about Pugwall over a sausage, beans and chips lunch, or to use their computers. Unfortunately, we didn't have time to walk up to the Cathays Park entrance to take the exact picture, but we were able to take a quick snap of the other side of the building when our National Express stopped outside the Student Union. It's still as grand as ever and brings back many happy memories of our student days.
May - Lifting Equipment At Cardiff Docks, 1930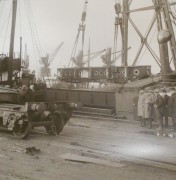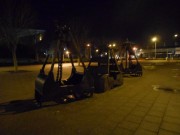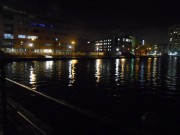 With the old Docks now redeveloped into Cardiff Bay, it's quite hard to get a similar picture when the remaining Port Of Cardiff is fenced off and private property. But the nice thing about walking around the Bay is that it's dotted with various reminders of its industrial era. We're not sure that it's lifting equipment, but we did manage to take a picture of some heavy machinery near the Red Dragon Centre. Then we walked around to Roath Basin, which is still occasionally used to house ships (such as when
HMS Duncan
visited in 2014), for a photo of one of the old Dock areas.
June - Young Girls As Heralds, Pageant At Cardiff Castle, 1931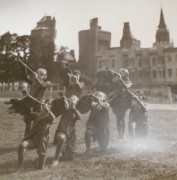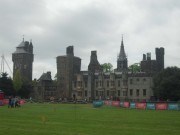 We had to cheat slightly here as we didn't have time to go inside the Castle on this occasion. In fact, we've only been in there on a handful occasions; once to see a parade involving SuperTed and the Teenage Mutant Hero Turtles, once to see a military event involving my cousin and, most recently, for the
VE Day anniversary
in May 2015. Our comparison photo comes from the latter, although we're pretty sure we do have pictures from the other two somewhere. There were no young girls as heralds, but there were some middle-aged men as Norman invaders just out of shot. Most importantly, as luck would have it, we took a photo of the Castle's mansion from the exact same spot as in the calendar. You'd never know that almost ninety years had passed in between.
July - Queen Street, 1893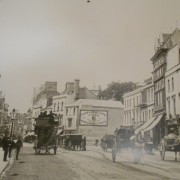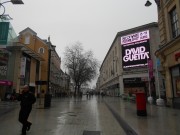 It was easy to take this photo as we were staying in the Travelodge just off Queen Street. Cardiff's main shopping road has changed a lot since Victorian times, so it took a little research to find out exactly where the picture had been taken. However, working on the basis that one of the buildings has "33" on its chimney, which is now somewhere around Pillars restaurant (excellent vegetarian burgers, by the way), and the fact that the Castle is just visible in the top right corner, we made our best guess.
Despite being vastly different, there is no doubt that the fundamental features of Queen Street have remained. The early morning view from the Principality looking up to the Castle is a similar scene of people going about their daily lives. A digital David Guetta advertisement is now in the rough location of the Glove & Shears Hotel board and Queen's Arcade has replaced many of the grubby-looking buildings. But we think that a Victorian resident of Cardiff would still be able to find their way around, even if they did spend half the time wondering what that man is holding up to his ear.
August - West Indian Sugar Being Unloaded At Bute East Dock, 1925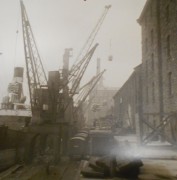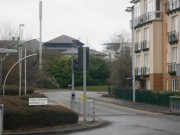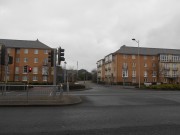 Again, the redevelopment of Cardiff Bay makes it extremely difficult to replicate this photo. It's the first area of Cardiff Docks that we remember changing, as my father would regularly drive me down to the area to see the Atlantic Wharf council offices being built and would once again instruct me to remember what I was seeing. Louise used to go past the Bute East basin on the way to college every day in the late 1990s, and it's still there today.
Unfortunately, it was in complete darkness when we visited. When we took a photo it was like one of those joke postcards that shows a black picture with "Cardiff At Night" written on the top. A Cardiff Bus driver informed us that Atlantic Wharf is usually lit up brightly, so it's unfortunate that they chose that one day to be environmentally conscious. Maybe next time! However, we did take a photo of the Atlantic Wharf building from Lloyd George Avenue which shows just how much the area has changed from industrial to residential.
Behind those apartments is the feeder canal for Bute East which, barring a few exposed sections, now runs beneath the streets of Cardiff until it reappears in Bute Park and runs up to Blackweir. We've always been fascinated by it, and would love to have a wander around some of those "secret" tunnels!
September - The Old Library, 1896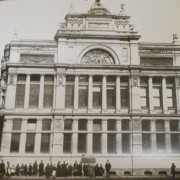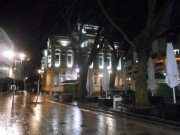 One of our favourite areas of Cardiff, The Hayes was always our bus stop whenever we visited whilst growing up. Then, like St. Mary Street, they fully pedestrianised the area when the St. David's 2 development began. But we can still stand there in front of the Hayes Island Snack Bar, picturing the number P2 Cardiff Clipper coming from Mill Lane and our old friend Mez coming out of the Private Shop hoping his mother wasn't on the bus.
As was the case back then, it's all too easy to walk through the area without really noticing the Old Library. But it's a gorgeous building, even at night, and now houses the free Cardiff Story Museum. In the 1896 photo, there was some sort of demonstration going on. We were the only ones there this time, but 120 years later not much has changed in general!
October - Ninian Park, 1947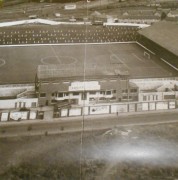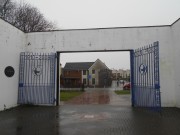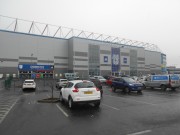 This is the only area from the calendar which no longer exists in any form in the same location. Ninian Park was demolished in 2009 and a housing estate is now located on the same site. As a nice touch, they kept the original gates and placed them over the road at the entrance to the new Cardiff City Stadium. It makes for quite a nice photo to look through them over to the new houses, as it's like looking at the present through a historical window - a bit like looking over Cardiff Bay from the Harbour Master's Office in the Pierhead Building.
The new stadium is now the home of Cardiff City and the Welsh football team. During
our last visit
in 2016, the area was swarming with thousands of proud fans eager to welcome the Welsh team back from Euro 2016. We were lucky enough to obtain tickets for the event inside the stadium and are still buzzing from the atmosphere!
November - Cardiff High Street, 1925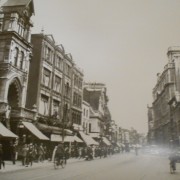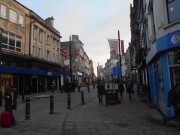 More memories of the 2016 Wales Homecoming, as we stood on this exact corner watching the team climb all over the Castle walls before coming out and boarding their open-top bus. But it also reminds us of nights out in the 1990s, when we'd walk from the Burger King at the top of Queen Street to Clwb Ifor Bach on Womanby Street, just down the road.
Standing with our backs to the Castle, looking down towards St. Mary Street, it's another example of how things may have changed superficially, but the spirit of the city remains as people go about their daily lives, unaware that somebody has captured the moment in time.
December - A Humber Taxi In Cardiff, 1920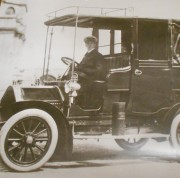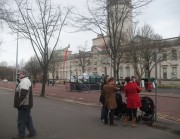 Not the greatest photo to end our calendar, you don't see so many Humber Taxis around Cardiff anymore. However, you can just see the corner of one of the Civic Centre buildings in the background, so we've used a picture of the Cathays Park area instead. It was dark and the weather was particularly atrocious when we went up to City Hall to eat our fritter and chips. Therefore, we've had to slightly cheat again and use one of our photos from the
St. David's Day Parade
in 2015. In fitting with the recurring theme, it hasn't changed a bit!
We had a lovely time walking in our own footsteps and through Cardiff's history whilst fully appreciating the present. There really is no place like home, and we're already considering making our history walk an annual feature whenever we go home for the Snooker!